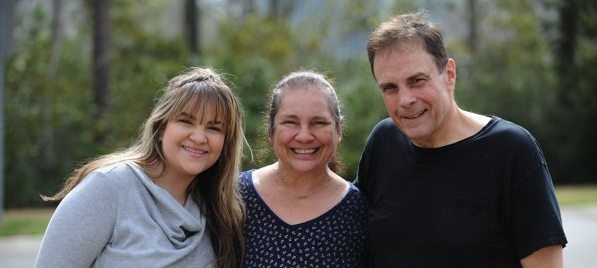 Local Highlight - The Boulavsky Family
Losing your family home to a house fire is one of the most tragic events you can experience. Having this happen to your family twice is beyond the scope of imagining for most of us. Yet the Boulavsky family has endured this along with an even greater personal tragedy. In previous years, Elaine Boulavsky, wife to Greg and mother to Khrysta, was diagnosed with breast cancer. Dealing with all of this adversity as a family has been much easier with the support of the local community of Myrtle Beach. 
Meet the Boulavsky Family
This community starts here at Carolina Trust. The Boulavskys lived in Maryland more than 20 years ago before moving to South Carolina for sunnier skies. The family has been a member of the Carolina Trust Federal Credit Union in South Carolina for the last six years. 
"We've been with you guys for 6 years, and have had nothing but great experiences," said Greg Boulavsky. "We wanted to bank with a company that was more personal and local, and everyone at Carolina Trust is so knowledgeable, and has made the process so easy." 
Then just last year on April 12 the family was hit hard by a personal disaster. 
After Elaine's successful fight against breast cancer, the apartment home where the Boulavsky family lived was ablaze. The family lost all of their belongings, and each member was severely injured when jumping from the third story of the apartment building.
Yet through it all, the Boulavsky family carried on. Today Elaine has confident words to share with others going through similar tragedies.
"This is all a part of your journey," said Elaine, who added that prayer and community support are also instrumental to surviving such traumatic situations.
Greg added, "You have to have faith and let people help you. Accept help where it's given. We owned a restaurant for five years and were always giving back where we could. Now we are receiving all of that in return during our time of need. Everyone wanted to help us, even people we didn't know."
Community Support
Coastal Carolina University did a lot for the family by supporting Khrysta with tuition assistance, clothing donations, gift baskets, and aid for books. Khrysta was enrolled in a master's degree program at CCU received a special item from the program director.
The program director contacted Kleinfeld Bridal in NYC regarding a replacement for the cathedral style veil that Khrysta lost in the fire. The veil was successfully located and she was able to use it at her wedding in December 2018.
Khrysta's wedding cake, photography, and decorations were all donated by members of the community who wanted to help after hearing her story. "There were people helping at every turn, in any way possible," said Khrysta.
After the family settled into their new home, Carolina Trust and the Boulavsky family hosted a housewarming party. The housewarming party was the perfect opportunity for the family to say thank you to everyone in the community who was there when they needed them.
Here at the Carolina Trust Federal Credit Union, we are thankful to have members like the Boulavsky family as part of our community. We are also happy to live in a place where we have such supportive local individuals, business owners, and families willing to help others in a time of need.
Hurricane Preparedness: Before, During, & After the Storm
The Atlantic hurricane season, which affects South Carolina, spans June 1 through the end of November and usually sees the highest level of activity in September. But you can begin preparing now. Being prepared for and knowing what to do during and after a major storm, like a hurricane, is essential to the safety and survival of you and your family. Read on to learn what you should do to prepare and the essential do's and don'ts of weathering a hurricane. Knowing these types of safety and survival tips could be your ticket to surviving another major storm. 
What to Do Before a Hurricane Making preparations now will save you stress and danger in the event of a hurricane.
Know your evacuation zone, evacuation route, and the location of the nearest FEMA safe room or ICC 500 storm shelter. Emergency Alert System 

Have plans in place for evacuating or taking shelter at your home. 

Keep enough supplies on-hand for your family (pets included) for at least three days. This includes food, water, flashlight, batteries, first aid, cash, and medications. 

Plan alternative communication during a storm (text messaging or social media). 

Install hurricane shutters on windows and check valves in your plumbing. 
If your area is under a hurricane warning: 
You will need a location safe from high winds and flooding. 

Find your designated storm shelter or a small, windowless interior room. 

Evacuate if instructed to do so and listen for emergency alerts and information. 
Carolina Trust Announces Promotion
Brittany Woodward, Little River Branch Manager, began her career with Carolina Trust in 2018 with almost a decade of banking experience. Brittany is responsible for managing branch operations while personally assisting individuals and businesses owners with transactions, account opening and loan applications. 
Im a Buddy, Not a Bully Pee Dee Elementary School
Carolina Trust staff members visited Pee Dee Elementary School for Mission Possible day, where NFL player Ricky Sapp gave an anti-bullying presentation to students! Our mission is to promote positive behavior, encourage students to prevent or report bullying, and engage schools, students, parents and the community in conversations about solutions for bullying. 
Carolina Trust Announces New Employee
Carolina Trust Federal Credit Union is pleased to welcome August Mize to the Digital Marketing Specialist position. 
Among other responsibilities, Mize will assist marketing in social media efforts, community events, photography and written communications for digital and promotional content. Mize is a recent graduate of Coastal Carolina University where she earned her bachelor's degree in Communication/Sports Management.
2018 IRA Contributions and Considerations
The maximum contribution amount for 2018 and 2019 is $5,500 or $6,500 for owners age 50 and older. The IRA contribution limit does not apply to  direct  transfers  or rollover contributions.
If you turn age 70½ after June 30, 2019, then you may take your first required minimum distribution by December 31, 2020. If you are considering opening an IRA, take a look at the tax advantages offered by Traditional and Roth IRAs*:
With a Traditional IRA, your  contributions are tax deductible and earnings accumulate tax deferred, so you won't  owe  income taxes until you make withdrawals. Deductible contributions and earnings are then taxed at your regular income tax rate upon withdrawal.
Although Roth IRA contributions are not tax deductible, withdrawals of your contributions are always tax free and penalty free. Additionally, earnings accumulate tax free and are free from income tax upon withdrawal if  you  meet  specific conditions.