Show your Chanticleer Pride with every purchase!
If you're a CCU student, employee, alumnus or Chanticleer fan, show your Teal spirit with a unique CCU Athletics credit card design.
CCU Teal compliments Carolina Trust Lime.
Choose from three spirited designs all while receiving the highly competitive benefits that accompany our Lime card lineup.
When you apply for a LimeEssentials, LimeRewards or LimeRewards+ Visa Signature card, be sure to indicate your preference for a CCU card design. Then, each time you make a purchase with your CCU Athletics Visa card, a percentage of that purchase is donated to Coastal Carolina University to help fund scholarships for deserving students.*
Select the Lime Visa credit card that suits your preference, and with a CCU card design, you'll support Teal Nation with every Lime card purchase:
Enjoy Unlimited Cash Back Rewards up to 1.5% on everyday purchases and balance transfers**
No Annual Fee on any Lime card
Free Automated Fraud Alerts and other fraud prevention tools
Core and Exclusive Visa benefits, depending on which Lime card is right for you
And with a CCU card design, you'll support Teal Nation with every Lime card purchase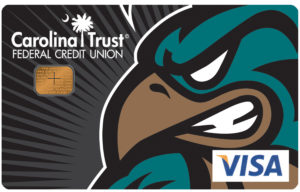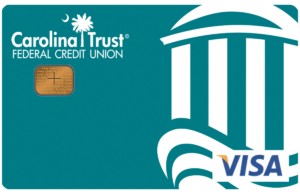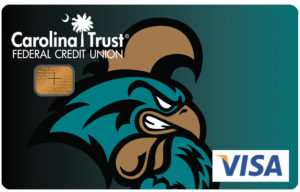 *Carolina Trust is an official partner of CCU Athletics. Approved Annual Percentage Rate (APR) and credit limit subject to credit worthiness. Following any promotional rate, APR will vary based on U.S. Prime Rate and may increase or decrease. Rates are determined and adjusted monthly on the first business day by adding a Margin to the highest U.S. Prime Rate published in the Wall Street Journal on the first day of the previous month. The Margin, which will range from 4.99% to 15.99%, is determined based on credit history evaluation and the qualifying card selected. The card APR will not exceed 17.99%. A credit card may not be issued to consumers younger than 21 unless the written application includes: (i) an individual cosigner age 21 or older; or (ii) consumer submission of financial information indicating an independent means of repaying any credit obtained. Other restrictions may apply. ATM withdrawals and cash advances do not qualify for CCU contribution incentive. If you live outside the Credit Union's field of membership and want a school VISA credit card, then you are eligible for membership upon joining the CCU Alumni Association.  CCU Athletics card is not available as a VISA Secured card.
**LimeRewards cardholders receive 1 point and LimeRewards+ cardholders receive 1.5 points for every dollar in net purchases and balance(s) transferred from an external third-party creditor.  Points may be redeemed for the following: (1) cash back at the prescribed Program rate;(2) to order gift cards or the merchandise described on the Program rewards website accessible via Carolina Trust digital banking login; or (3) Travel rewards as identified on the Program rewards website and/or your Program materials. Eligible cash back redemptions may be credited to the cardholder's CTFCU account via a direct deposit or as a CTFCU Visa statement credit. Non-qualifying transactions include: cash advances, ATM withdrawals, convenience checks, balance transfers, and any PIN (Personal Identification Number) transactions, except as otherwise permitted in special promotional offers.  Other restrictions apply and may vary based on redemption option and delivery method.