Access Your Account Anywhere, Anytime
Our digital banking platform allows you to access your accounts and do just about everything you would do at our teller line! With few exceptions, you should be able to enjoy the same digital banking functionality whether you're logging in from your desktop, tablet or smartphone. During your first login, read the guided prompts carefully. Our digital banking system will guide you step-by-step through your first login.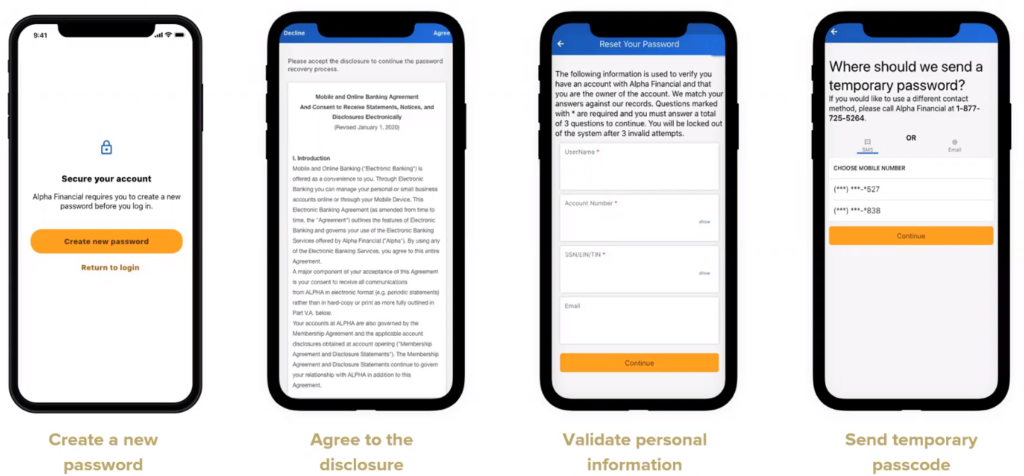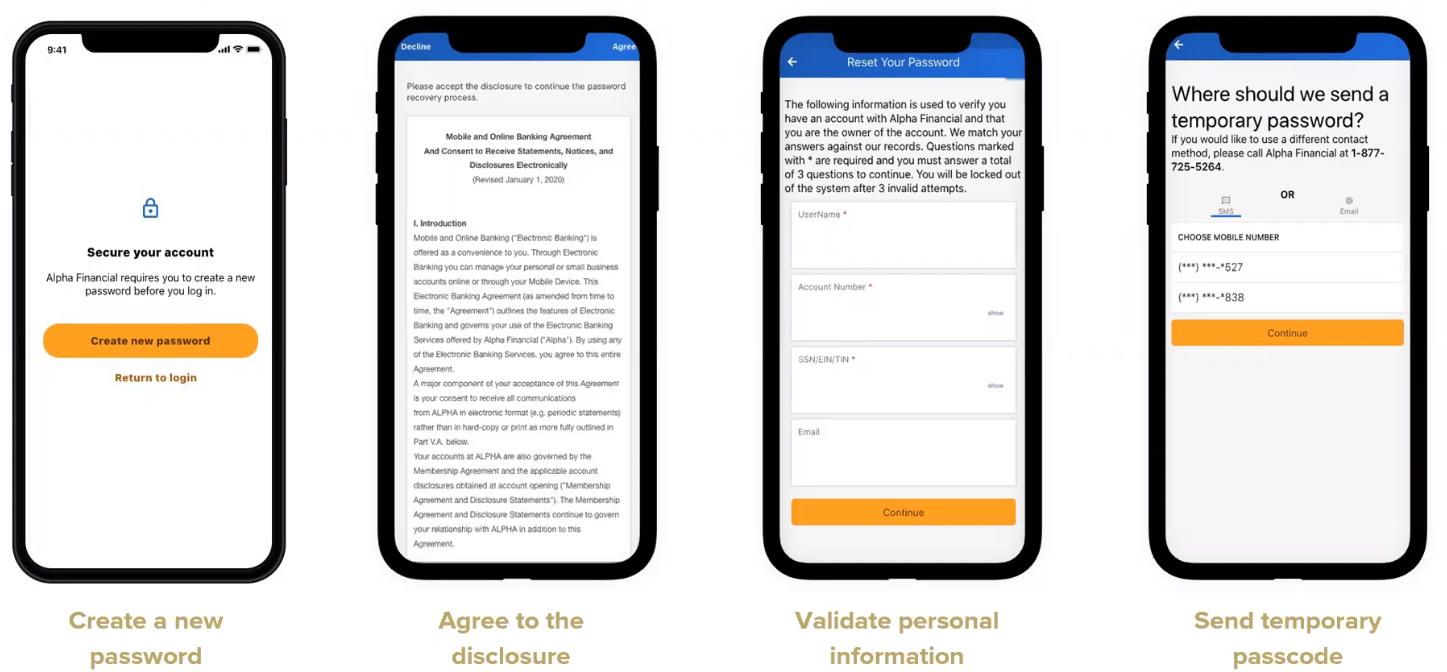 First Time Digital Banking Sign In for Current Members:
You can login from your desktop or download the new CTFCU mobile app from the Apple or Google Play app store. You will be asked to enter your previous online banking Username and Password before selecting Log In.  Then, you will be asked to verify some details to confirm your identity before being asked to create a New Password. The key to moving forward through your first login will be confirming your identity via a temporary password (one-time passcode) delivered to your Email address or by SMS text to your Mobile phone number on file with Carolina Trust.  There is also an option to receive an automated call with the temporary password if email and text are not an option.
If your Username and Password are not recognized during your first login to the new digital banking system, you will need to call Carolina Trust at 843.448.2133, ext. 3,  to speak with a Member Service Representative.  Members who have not logged in to Carolina Trust previous online banking system in the past year, will need to re-enroll.
Please Note: We will never send an email or text link asking you to click the link to input your account number or username and password info. Simply visit the Carolina Trust website and/or download the mobile app to login as you always have.  Be on guard against any phishing attempts that would ask you to do otherwise.

Banking for when you're on the go.
Manage your finances from the palm of your hand. Your account access is no longer limited to business hours. Mobile banking gets you out of line and moving on to other activities. Simply download the CTFCU mobile app from the Apple or Google Play app store to get started*.
*Currently, all services available in digital banking for set-up and customization may not be available within the mobile app.
New and improved features available in our new digital banking environment:
Customization – Create the Dashboard user experience you prefer
Quick Transfer (Classic Tab) – Allows you to transfer money between your Carolina Trust accounts, to another Carolina Trust member,  make a credit card payment, or set up an External Transfer
Financial Wellness – Monitor your spending patterns by category and determine where your money is going.
Set up account e-Alerts, View e-Statements, Set up bill payments
Apply for loans
Card Management Options
Find ATM and branch locations
Mobile enhancements include: Biometric login, Snapshot preview so you can preview favored account balances without logging in, Deposit and order checks
And much more
Bill Pay
Save your stamps for special occasion cards and avoid the hassle of writing paper checks. Bill Pay simplifies paying for your rent or mortgage, utilities, insurance and everything in between! It's a secure and convenient way to make payments from your Carolina Trust checking account.*
Login to your Carolina Trust digital banking account to enroll in Bill Pay.
Set up one-time or recurring payments
Quickly update billing details if your biller changes your account number or their payment address
Easily identify biller payment history and payment details
Schedule payment reminders so you never miss a payment date
Get notifications when your bill payments have processed
*First 15 payments within 30-day period are free and $0.49 for each additional payment.
Mobile Deposit
With mobile deposit, paper checks are no longer a hassle because waiting in line at the drive-through or in branch is no longer necessary.
Within the mobile app:
Select Make a Deposit
Choose your account
Enter the amount of the properly endorsed check (reminders are provided)
Take a picture of the front and back of the item
Submit for deposit.
You're literally just some taps and snaps away from depositing your money*!
*We have temporarily increased mobile deposit limits to $5,000 per day or $10,000 monthly due to the current COVID-19 situation. Member agrees that items transmitted using the Services are not subject to the funds availability requirements of Federal Reserve Board Regulation CC.  Funds deposited using the Services will generally be made available in two (2) business days from the day of deposit. Members who have their accounts open for more than 60 days and whose accounts are in good standing with the Credit Union are eligible for mobile deposit. Additionally, qualifying members must use online and mobile banking to be eligible. 
We Are Here to Help!
A member but haven't enrolled in digital banking? Please contact our Member Services team at 843.448.2133, ext. 3, to complete the registration process
Click the button below to view Carolina Trust Brand Ambassador August's Digital Banking FAQ series and for additional information about our new digital banking platform.
Not a member?