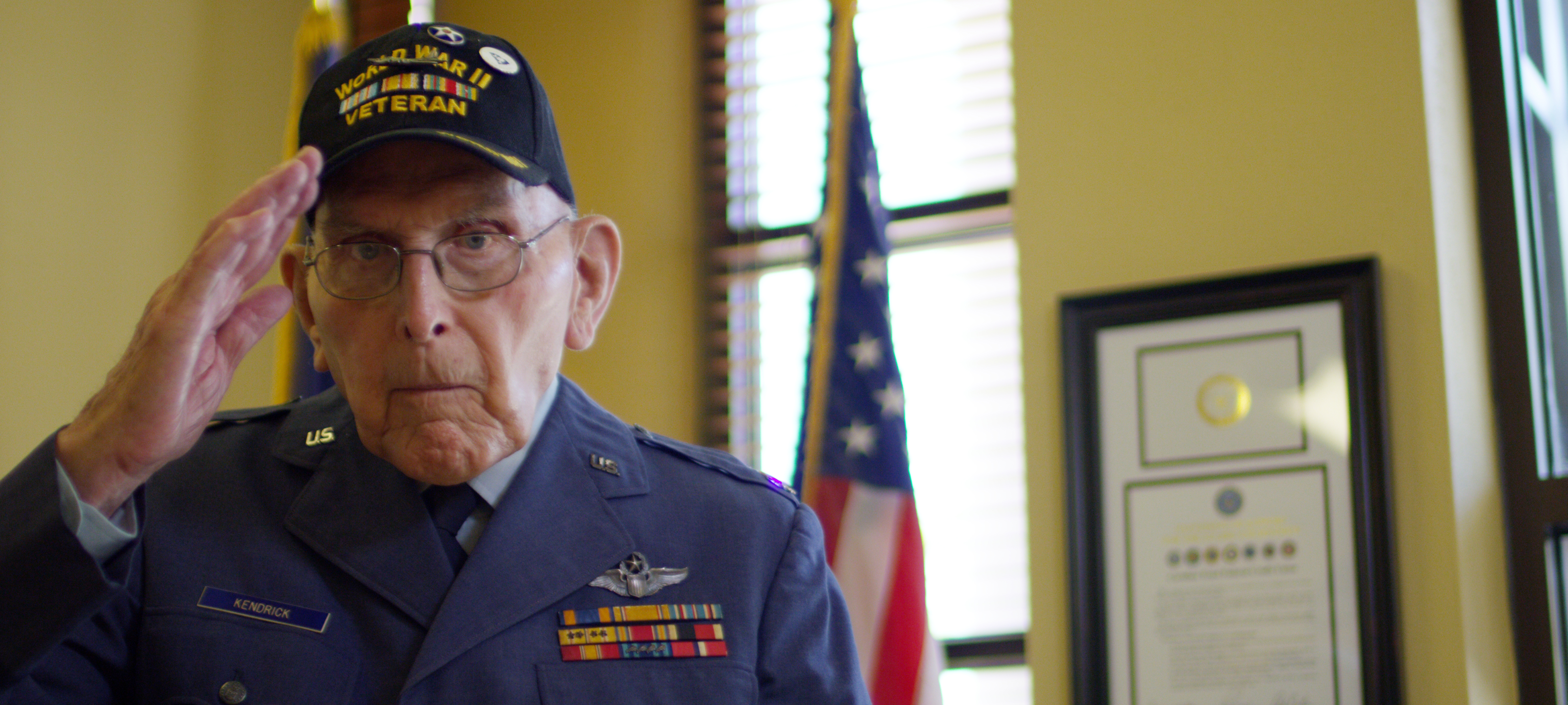 Local Highlight - Lieutenant Colonel James B. Kendrick, USAF/Retired
When you first meet Lieutenant Colonel James B. Kendrick, USAF/Retired, he will try to make you believe he is nothing special and just an average man. However, with a lifetime of serving others, whether in the United States Air Force or as Carolina Trust Board of Directors Emeritus, one will quickly realize to know Lt/Col. Kendrick's, and to talk with him is an honor. As he celebrates his 100th birthday this month, it is clear to see that his life has been far from "nothing special."
Greatest Generation
He is from the "Greatest Generation" and his first-hand accounts as an experienced pilot in World War II are riveting to say the least. Lt/Col. Kendrick's extensive career started in 1936 when he entered The Citadel in Charleston, SC and became interested in flying.
During his military career he learned to fly over 14 different types of airplanes including a WWI plane that had no brakes and no radio. His favorite plane was the B-25. Although he never anticipated becoming a fighter pilot, he fulfilled many successful missions throughout his distinguished military career.
Point A to Point B
When asked how he accounts for his long history of safe flying, he answers with some personal advice he was given early in his career by Eddie Rickenbacker (then ­President of Eastern Airlines):
"First you draw a straight line from Point A to Point B. Look 100 miles to the left. Look 100 miles to the right of the line. Look for the highest peak on each side. Take that altitude reading, then add 1,000 feet for your life, add 1,000 feet for your wife's life and 1,000 feet for each child you have, and that's your altitude!"
During his first 6 years in the Air Force, from 1940-1946, he was transferred 17 times, which afforded Lt./Col. Kendrick and his family an incredibly varied military experience. He lived everywhere from Fort Worth, Texas to Ishema of Okanawa, where he scouted out a Japanese Air Base north of Tokyo to see if it was suitable for Army Air Force Units before the surrender that ended WWII.
A Life of Service
After WWII, Lt./Col. Kendrick was stationed in Washington, DC and Germany before he retired in February 1968, after 28 years of service. It was then that he made Myrtle Beach, SC his home, and began working in real estate and as a Director of Stanly Hardware Company.
Lt./Col. Kendrick served on the Board of Directors for Carolina Trust Federal Credit Union from 1985 to 2017, when he was named Board of Directors Emeritus .
This month, Lt./Col. Kendrick turns 100 years old! We want to wish him a Happy Birthday from everyone at Carolina Trust! He is such an honored and respected member of our CTFCU family.
Carolina Trust Employees pedaled along the Scenic Byway in Georgetown County at the Tour de Plantersville. The Tour de Plantersville encourages physical activity for all participants in the hopes of combating sedentary lifestyles and especially childhood obesity. We were proud to be a sponsor of this wonderful Village Group event.
Carolina Trust Employees participated in Pay it Forward Day on Friday, April 26th 2019. They surprised customers by paying for their coffee and breakfast goodies at Dunkin' Donuts on International Drive. At Carolina Trust Federal Credit Union, our philosophy is "people helping people," and we encourage you  to pay it forward whenever you can in your every day life..
Identity Theft Protection
At Carolina Trust Federal Credit Union, your peace of mind is important to us. That's why we are pleased to offer Identity Theft Protection services through Deluxe Provent®.
If a Carolina Trust ATM is not nearby, don't worry! We belong to the CO-OP ATM network which provides members with surcharge-free* access to almost 30,000 ATMs nationwide. CO-OP ATMs are located in restaurants, retailers, and at other credit union branches.
Why Mechanical Repair Coverage Is So Important
The unexpected expense of a vehicle breakdown can add considerable financial stress to a household. By protecting your vehicle with Carolina Trust's mechanical repair coverage (MRC), you're taking steps to protect your finances in the event of expensive mechanical repairs.
I didn't buy a warranty at the dealership, so why would I purchase it from Carolina Trust?
The Credit Union's mechanical warranty is typically priced lower than those offered by dealers, and in many cases, it provides better coverage.
I don't think I can afford it.
If you're thinking of buying a used car, the cost of mechanical repair coverage (MRC) can be added to your monthly payment for very little cost. Even if you have your auto loan elsewhere, you can still add Carolina Trust's mechanical repair coverage to your loan. No amount is needed up front, and we offer a no deductible option. Coverage is available for any vehicle up to 120,000 miles and up to 12 model years old. Even if your auto loan is financed elsewhere, you can purchase Carolina Trust's MRC for your vehicle.
Can I purchase mechanical repair coverage if my factory warranty or other warranty has expired?
Yes. Coverage is available on all vehicles up to 120,000 miles and up to 12 model years old. You can even get coverage on vehicles that are not financed through Carolina Trust. For MRC, we offer a Platinum, Gold and Silver Plan with three deductible options: $0, $100 or $250***. Call the Credit Union for more information about this and other affordable insurance products.