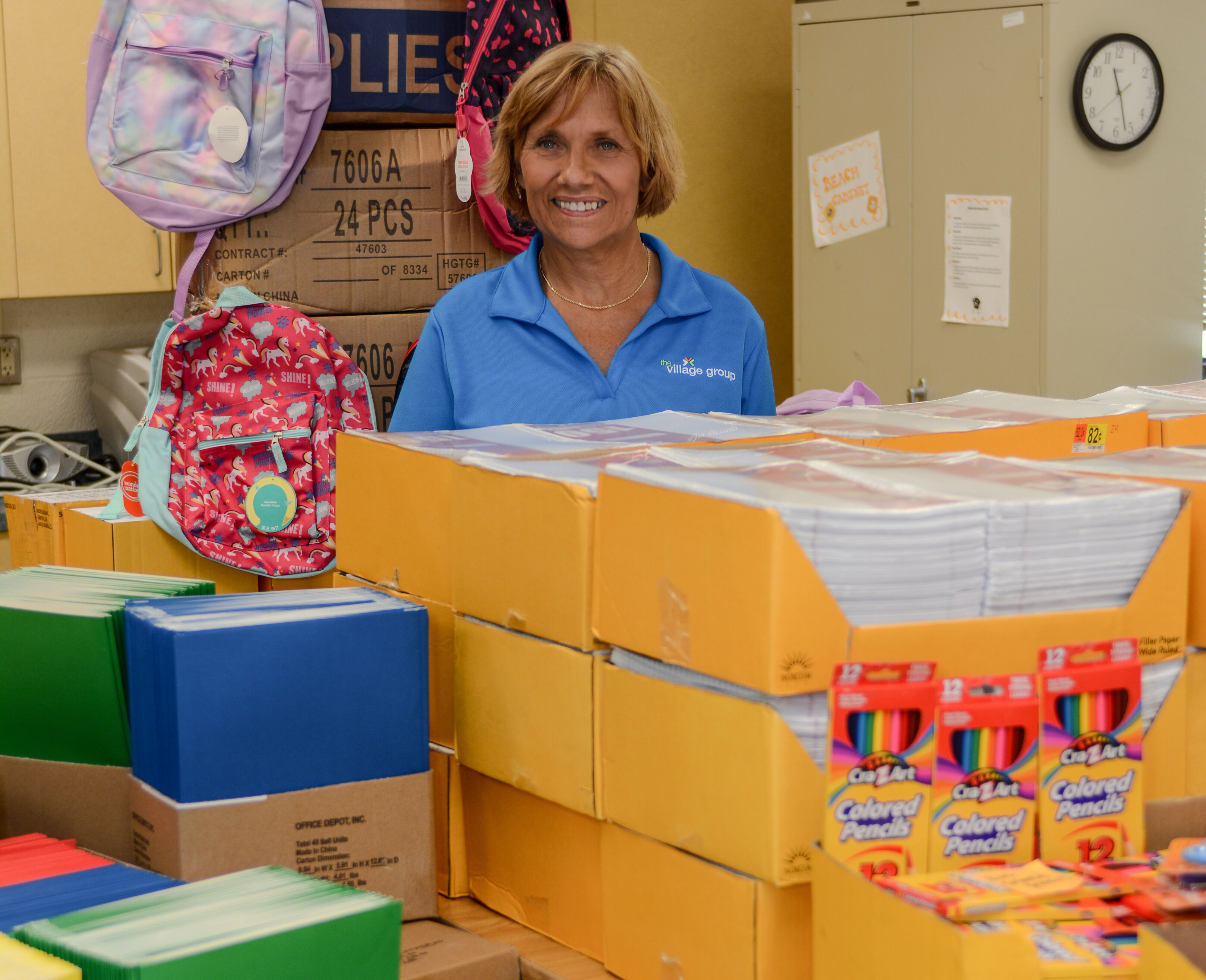 Local Highlight - Nanci Conley
Local Philanthropist, Nanci Conley has dedicated her life to serving the community. After serving with the American Red Cross for 18 years, she began her journey as Chief Operating Officer of The Village Group.
It Takes a Village
The Village Group is a nonprofit organization in Georgetown County, whose mission is to serve as a channel for the people, working to make positive changes in the community that will improve the quality of life for all. They seek to develop and sustain meaningful partnerships with individuals, public agencies and organizations in order to promote and achieve youth development, literacy enrichment, STEM-based education, recreation enhancements, and community improvements.
"It was The Village Group's mission that initially drew me to this position," said Conley. "Overtime, it's the children and having the ability to watch them pursue and achieve their dreams that has made me so passionate about The Village Group."
The Village Group gives back to the community through multiple annual programs. They kick off their year with their main fundraising event, The Tour de Plantersville. The Tour de Plantersville is a unique cycling event designed to bring people together to discover the only scenic byway in northeastern South Carolina.
With the funds that The Village Group raises from The Tour de Plantersville they're able to provide a Summer Academy for Georgetown County student. Throughout the year, The Village Group also provides Plantersville students with School Supplies, and an After-School Enrichment Academy. The Village Group Academies focus on providing students remedial education and academic enrichment, as well as recreation, character education, STEAM (Science, Technology, Engineering, Arts, and Math), Mentoring, entrepreneurship experiences, and educational field trips
"We're planting a seed in the children that are involved in our programs to believe in themselves, with the hope that when they're older they will understand the benefit of giving back to the community and investing in its children, and will continue what we've started" said Conley.
Philanthropic Start
Conley's start in philanthropic work began through her desire to create similar opportunities for her own children.
"After realizing that my kids and their friends needed an after school program and my community didn't offer one, a group of other parents and I got together to create a program and build a community center, "said Conley. "Years later, I received an invitation to the community center's 20th anniversary."
Conley has dedicated her life to philanthropy through many organizations such as the Surfside Beach Rotary Club, Belin Memorial United Methodist Church Volunteer, Children's Museum Board of Directors, and the American Red Cross.
"I have been so blessed to be able to make a difference in my community," said Conley. "Through my philanthropic work, I have met some of the most amazing people, and have witnessed people's time, talents and treasures uplift those around them. This is one of the most giving communities that I have ever been a part of, and I am so honored to serve it."
Start the school year off right with a Goal Club youth savings account! Goal Club accounts provide a fun way for youth, ages 17 and younger, to save for the future and practice healthy saving habits. Upon joining, Goal Club members receive an account opening gift, access to age appropriate financial websites, and free online and mobile banking services.
So how do I join Goal Club?
You can get started in 3 simple steps:
1. You will need to complete a membership application. A parent or guardian must cosign
on any minor account (younger than 18). Please bring the completed form to a Carolina Trust branch so we can open your account and give you your free gift.
2. There is a membership fee of $5. It's only a one-time fee, and it's good for the life of
your account.
3. The minimum balance required to open a Goal Club savings account and earn dividends is $25. It remains untouched while your account remains open, but we know you'll be saving much more than $25!
Parents, we hope you'll encourage your child in his/her effort to save and learn about managing personal finances. You may make routine deposits to your child's Goal Club account through mobile or online banking transfer, phone banking transfer, payroll deposit, or at a branch.
CCU Coin Toss Kid Sweepstakes
Parents of Chanticleer fans ages 5-13 can now register their child for a chance to be the next CCU Coin-Toss Kid! One lucky participant will be randomly selected before each of the six home games*.
Winners will receive four tickets to a CCU home football game, one parking pass, a signed football from CCU, and the opportunity to accompany the team captains and referees for the official pre-game coin toss.
*No purchase necessary to enter or w in. Must be age 5-13 to participate. All eligible entries, as provided in
the Official Contest Rules, must be received August 5, 2019 through November 13, 2019. An authorized adult
or guardian must accompany each w inner to the game. Winners must have verifiable parental or guardian
permission to enter. For complete details and Official Contest Rules visit carolinatrust.org. Entry in this
promotion or acceptance of any prize constitutes acceptance of the Official Contest Rules.
Conway
Our Conway Branch at 2518 Main Street is now open and our temporary location at 1610- N Church Street is now closed. Thank you for your patience and understanding while we were closed for repairs. Be sure to stop in and have a cup of coffee with us!
Surfside
Our Surfside branch got a makeover, and we can't wait to serve you in our newly updated branch. Be sure to stop in and check it out!
Help4Kids Vienna Sausage Drive
Carolina Trust Federal Credit Union is continuing to collect items for the Help4Kids Vienna Sausage Campaign through September. All Horry County Branches will serve as drop-off locations. In addition to Vienna Sausages, Help4Kids will always accept other individually wrapped snack items, peanut butter, school supplies and monetary donations.
Help4Kids is a local non-profit organization providing basic necessities to children in Horry County. They deliver food and other supplies to children who likely won't have a meal to eat on the weekends. Each week, Help4Kids volunteers pack up over 3,000 snack packs to deliver to the schools and homes of children identified as being in need of weekend food.