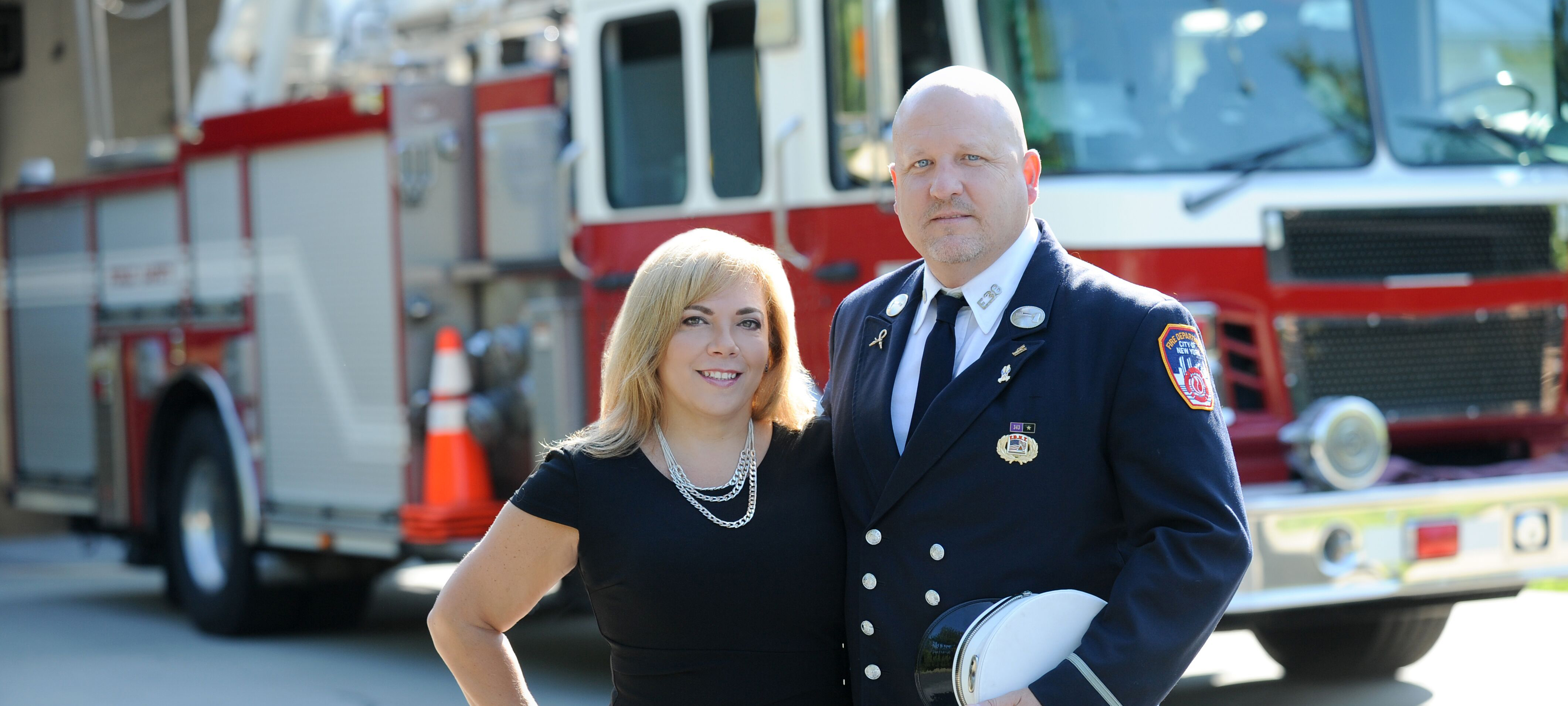 Local Highlight - David Turner
September 11th, 2001 is a day that most Americans will never forget. A day where Americans joined together with a fierce sense of patriotism, as a horrible terrorist attack was led against our country. In a speech to congress days after the attack, President George W. Bush said, "We will not waver, we will not tire, we will not falter, and we will not fail." This quote still sticks with David Turner, Lieutenant (Retired) FDNY, 18 years later.
Serving the City
After serving as a police officer in one of the city's toughest precincts for 5 years, David Turner joined the Fire Department of the City of New York in 1993 and was assigned to Engine 54, Ladder 4.
"The fire department was my calling," said Turner. "It was like a second family. You lived with 10-14 other people for 24 hours at a time. You ate, slept, drilled, trained, and put your life in each other's hands."
A Call to Action
David Turner was at home in his office when he got the call from a family member about the September 11th attacks. He turned on the television and saw the horrific scene from the World Trade center unfold. Although his wife didn't want him to go, he headed to the firehouse unsure of what he would find.
"I made it to the firehouse, and it was empty. I remember looking at the Riding Board (list of guys who were working) and checking to see who was working that day. I also remember looking at the empty shoes on the floor right where my brothers took them off before jumping into their bunker gear and taking the fire truck to the World Trade Center," Turner recalled.
Turner, along with others who reported to work, staged at another firehouse before heading to the World Trade Center. However, none of them could have imagine the scene that lay ahead of them.
"It Was A Full Out Rescue Mission"
By the time they commandeered a bus and arrived, the towers had fallen. Visibility was very limited, and Turner said it was hard to make out anything. They were walking over piles of debris, hoping to find people alive.
"It was a full out rescue mission," said Turner. "We truly believed that we would pull someone out alive and it would not come to fruition."
The days following the attacks were very difficult for Turner. He spent days at the "pile" searching through the rubble for survivors. Turner had 15 men from his fire house who were unaccounted for.
"Wives would call the firehouse, some asking for me, and those were some of the hardest conversations that I've had in my life," said Turner. "I'd give them hope that they may still be alive, but as the days went on, it became apparent that no one was coming home."
As days turned to months, Turner attended so many memorial services/ funerals that he lost count. He went to all 15 from his house, as well as those of other firefighters that he had friended through the years.
"My body was numb for a long time," Turner said.
The Country Comes Together
The way that the country came together after the attacks was what kept Turner going through the tough times. People would stop by his station all day, every day to give their condolences. To this day, Turner's firehouse is the most visited fire house in the city and "probably the most visited in the whole country," he said.
Engine 54, Ladder 4 holds an annual service to honor the brothers that they lost on September 11th.
"It's a very tough time for me but having the memorial every year is like therapy," he said.
The Greatest Job on Earth
Although he lived through one of Americans deepest tragedies, Turner says he would do it all again.
"After 18 years and everything I've been through, I and I'm sure most, if not all, of my brothers would do it all over again. To me, it's still the greatest job on earth."
Carolina Trust Federal Credit Union Annual Veterans Scholarship
Carolina Trust Federal Credit Union recently established the Carolina Trust Federal Credit Union Annual Veterans Scholarship in honor of Lieutenant Colonel James B. Kendrick, USAF/Retired. The scholarship will go to Veterans Services at Coastal Carolina University, to help support military veterans and participants in the ROTC program.
Colonel Kendrick served as a USAF pilot during World War II. He started his extensive career in 1936 whenever he entered The Citadel in Charleston, SC and became interested in flying. Although he never anticipated becoming a fighter pilot, he fulfilled many successful missions throughout his distinguished military career. During his military career he learned to fly over 14 different types of airplanes including a WWI plane that had no brakes and no radio. His favorite plane is the B-25.
After WWII, Lt/Col. Kendrick was stationed in Washington, DC and Germany before he retired in Myrtle Beach, in February 1968, after 28 years of service. Colonel Kendrick has spent his life serving others and is truly a man of honor. Lt/Col. Kendrick served on the Board of Directors for Carolina Trust Federal Credit Union from 1985 to 2017, when he was named Board of Director Emeritus. As Carolina Trust Board of Directors Emeritus, he continues to share his life and experiences with all of those who have the honor of being in his presence.
CCU Coin Toss Kid Sweepstakes
Parents of Chanticleer fans ages 5-13 can now register their child for a chance to be the next CCU Coin-Toss Kid! One lucky participant will be randomly selected before each of the six home games*.
Winners will receive four tickets to a CCU home football game, one parking pass, a signed football from CCU, and the opportunity to accompany the team captains and referees for the official pre-game coin toss.
*No purchase necessary to enter or w in. Must be age 5-13 to participate. All eligible entries, as provided in
the Official Contest Rules, must be received August 5, 2019 through November 13, 2019. An authorized adult
or guardian must accompany each w inner to the game. Winners must have verifiable parental or guardian
permission to enter. For complete details and Official Contest Rules visit carolinatrust.org. Entry in this
promotion or acceptance of any prize constitutes acceptance of the Official Contest Rules.
Carolina Trust Federal Credit Union Announces Fall Intern
Carolina Trust welcomed a new fall intern, Jawan Mack. Jawan is a Senior at Coastal Carolina University and will be spending the semester with us. We are looking forward to working with him and giving him valuable experience in the financial industry.
Carolina Trust joined Credit Unions for Kids in raising money for The Children's
Miracle Network Hospitals through our casual Friday jean donations. Our employees went casual every Friday leading up to Miracle Jeans Day on September 11th, to support the cause.
Sallie Mae Student Loan Program
Get the money you need to help make higher education happen Student loans for Carolina Trust Federal Credit Union by Sallie Mae. For borrowers attending or borrowing for a student attending a degree-granting institution. Whether you're an undergraduate student, graduate student, or parent helping a student pay for school, these flexible loans are designed to meet your needs:
Competitive variable and fixed interest rates
No origination fee or prepayment penalty
Multiple repayment options
Help4Kids Vienna Sausage Drive
Carolina Trust Federal Credit Union is continuing to collect items for the Help4Kids Vienna Sausage Campaign through September. All Horry County Branches will serve as drop-off locations. In addition to Vienna Sausages, Help4Kids will always accept other individually wrapped snack items, peanut butter, school supplies and monetary donations.
Help4Kids is a local non-profit organization providing basic necessities to children in Horry County. They deliver food and other supplies to children who likely won't have a meal to eat on the weekends. Each week, Help4Kids volunteers pack up over 3,000 snack packs to deliver to the schools and homes of children identified as being in need of weekend food.