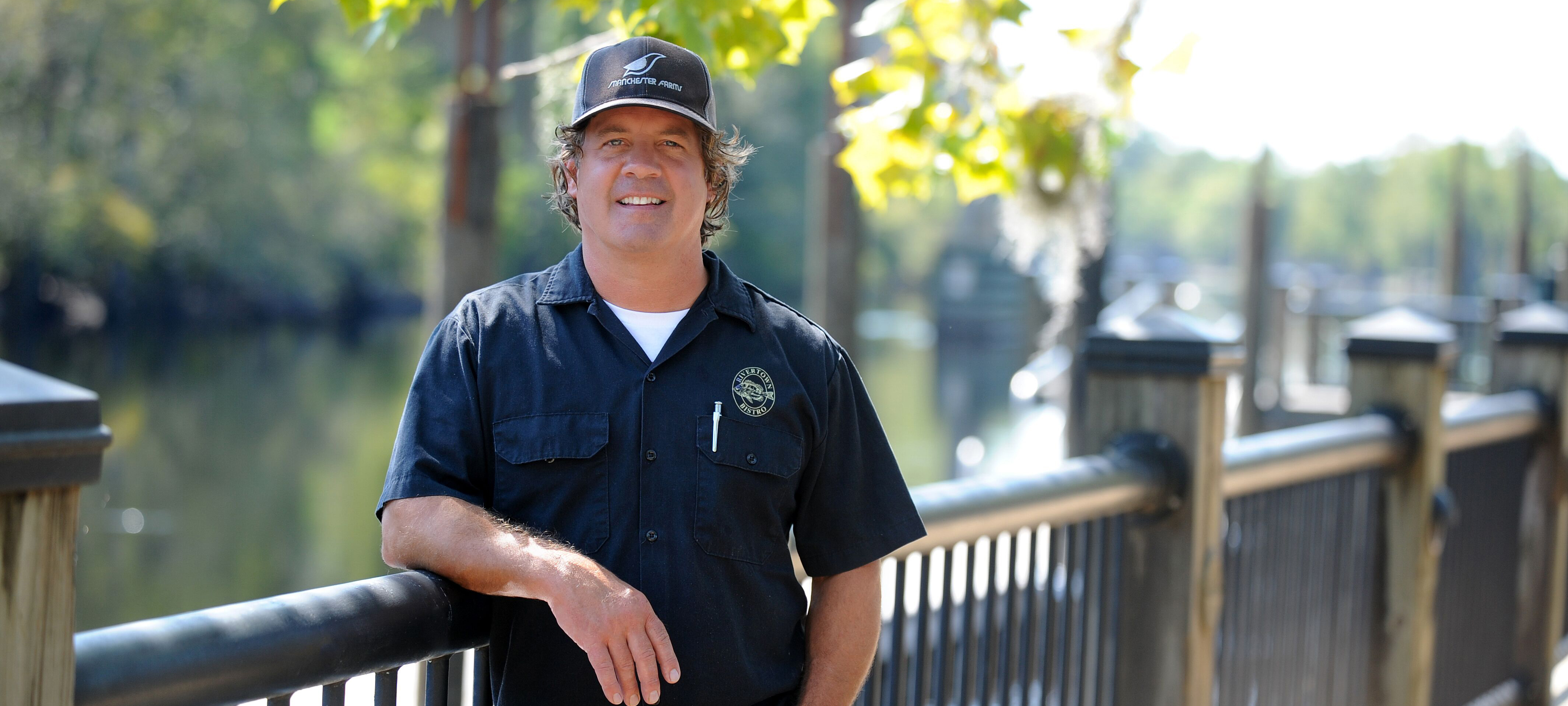 Local Highlight - Darren Smith
"We're not quitters," said Darren Smith, Owner of Conway riverfront restaurant, Bonfire a Smokin' Taqueria. "That's not who we are. I've had floods and fires, and it would be easy to say that's a sign to close, but that's not me. That's not who I am."
Smith, who is a Charleston native, was drawn to a career in the restaurant industry after his brother, Scott, became a chef and loved the instant gratification that providing a delicious meal for others created. He spent several years working as the executive chef of Shem Creek Bar & Grill, One Eyed Parrot, and Banana Cabana before making the move to Conway with his wife Cyndi. The two opened Rivertown Bistro in June of 1994 and later opened their riverfront restaurant, Bonfire.
Florence's Impact
Like many other businesses in downtown Conway, Bonfire was majorly impacted by Hurricane Florence as she made her way through the Carolinas last fall. Being directly on the Waccamaw River, Bonfire experienced major flooding that caused the restaurant to close its doors for six months.
"Watching the river rise after Hurricane Florence was grueling," Smith recalled. "The restaurant was flooded with over two feet of water, and the floors were totally saturated due to the amount of time that it took for the water levels to subside."
After allowing the water levels to fall and having the restaurant assessed by FEMA, Smith began a long road to restoration. Everything four foot and below in the restaurant had to be completely gutted. Although he knew it would be a long and expensive process, Smith was determined to be resilient.
"For me, it was never a question of if we would reopen, but when we would reopen and how quickly we could get the restoration completed," he said.
In the Face of Adversity
Hurricane Florence wasn't the first time that Smith had faced adverse circumstances in his career as a restaurant owner.
In 2008, Smith's other restaurant Rivertown Bistro, a high-end eatery in downtown Conway, caught on fire. Although no one was hurt or at fault, it was a devastating loss for Smith, who poured his heart and soul into the restaurant.
Smith says that the community and their support is what really motivated him to persevere after the disastrous situations that he has endured.
"They've always stood by us and supported us through every situation. During Hurricane Florence, so many people in Conway were impacted, but we all joined together as a community support system and helped however we could. Neighbors, shop owners, first responders, etc. We all became like family."
"Conway is Alive and Growing"
A year later, many of the businesses in Conway who were impacted by Hurricane Florence are back on their feet, and they've joined together to try to attract locals and visitors into the city to help it to flourish again.
"In order to see growth in the city, it's going to take people and visitors coming into the local shops and eateries," said Smith. "I love for people to come eat at my restaurants, but it's so important to support the whole community. The city has so many amazing dining and entertainment options. We all have so much faith in the potential of our city and want the area to know that Conway is alive and growing."
Grand Strand Magazine Women in Business
We are so honored to have some of our ladies featured in this month's Women in Business edition of Grand Strand Magazine.Be sure to get your copy of the October issue, where a portion of the proceeds from this section were donated to Caring In Our Lifetime, which provides assistance to local women and men suffering from breast cancer.
Carolina Trust kicked off the 2019-2020 I'm A Buddy, Not A Bully Program with a pledge signing at Riverside Elementary School on Stomp Out Bullying Day.
The I'm A Buddy, Not A Bully Program was created by Carolina Trust and WFXB Fox TV to help bring awareness to bullying. For the third year in a year a row, Carolina Trust and Fox representatives will visit local schools to encourage students to sign I'm A Buddy, Not A Bully pledges agreeing to:
Be Kind
Treat Other With Respect
Take Action To Prevent Or Report Bullying
WIPL Inspiring Women's Luncheon
Our ladies had a great time at the Women In Philanthropy and Leadership at CCU Inspiring Women's Luncheon featuring guest speaker, Dr. Atiya Kai Stokes-Brown. Dr. Brown shared the importance of diversity officers for organizations and businesses and how her personal commitment to justice and advocacy led her to where she is today.
Disaster Relief Donations
At Carolina Trust, we are all too familiar with the impact that natural disasters can have on an area. That's why we wanted to join World Council of Credit Unions and Carolinas Credit Union Foundation in their efforts to aid those impacted by Hurricane Dorian. Carolina Trust made donations to both organizations to assist communities impacted by the hurricane, and you can donate too.
Visit http://ow.ly/EJ9f50wmqQT to help World Council of Credit Unions in their efforts to provide credit unions in the Bahamas with supplies, branch reconstruction and technical guidance.
You can find more information about the Carolinas Credit Union Foundation's Disaster Relief Fund on their website at http://ow.ly/sKbW50wmqQU.
Shamona Mosley Memorial Jeans Fund
Along with donations from Carolina Trust and Board Members, employees went casual to raise money for the Shamona Mosley Memorial Fund. Shamona Mosely was an employee at Premier Federal Credit Union in Greensboro, NC who lost her life due to domestic violence. Premier Credit Union with Carolinas Credit Union Foundation has established a fund to help Shamona's family with financial needs during this tragic time.
CCU Coin Toss Kid Sweepstakes
Parents of Chanticleer fans ages 5-13 can now register their child for a chance to be the next CCU Coin-Toss Kid! One lucky participant will be randomly selected before each of the six home games*.
Winners will receive four tickets to a CCU home football game, one parking pass, a signed football from CCU, and the opportunity to accompany the team captains and referees for the official pre-game coin toss.
*No purchase necessary to enter or win. Must be age 5-13 to participate. All eligible entries, as provided in the Official Contest Rules, must be received August 5, 2019 through November 13, 2019. An authorized adult or guardian must accompany each winner to the game. Winners must have verifiable parental or guardian permission to enter. For complete details and Official Contest Rules visit carolinatrust.org. Entry in this promotion or acceptance of any prize constitutes acceptance of the Official Contest Rules.
International Credit Union Day
During the month of October, Carolina Trust will join with 56,000 credit unions around the world in celebration of International Credit Union (ICU) Day®.
There are 200+ million credit union members around the world—more than 100 million in the U.S. alone—and Carolina Trust joins them in celebration of the not-for-profit cooperative spirit that all credit unions share.
At its most basic level, a credit union is people pooling their money to provide each other with affordable loans—it is literally people helping people. This philosophy is why Carolina Trust chooses to celebrate ICU Day and why our employees are always serving the community. Be on the lookout for our employees this month, as we have a special service project planned.
Get Your Free Credit Report Once a Year
It's a good practice to check your credit report for fraudulent activity annually. The three major credit bureaus, Equifax, Experian and TransUnion, will provide you with a free copy of your credit report upon your request once every 12 months. These three national credit reporting agencies have established one central website, phone number, and mailing address to use for ordering your report. The credit bureaus will provide the free annual reports only through this central location and not through their individual websites, telephone numbers, or web addresses. Be cautious of websites offering "free" credit reports since you do not need to go through third party providers.
For your free credit report, contact the Annual Credit Report Request Service by Web: www.annualcreditreport.com, Toll-Free Telephone: 877.322.8228, or Mail: Annual Credit Report Request Service, P.O. Box 105281, Atlanta, GA 30348-5281. Since you are entitled to one free annual report from each of the three bureaus, you can get them all at one time or stagger the requests throughout the year. If you request the report online, you should be able to view it immediately. Requests made by phone or mail will take approximately 15 days to process.
Inactive Account Reminder
If you make routine deposits to your savings, pay down a loan, or use your checking account or VISA® credit card, then your account is considered active. However, if you have a Carolina Trust savings, checking or loan account that has not received a transfer, withdrawal or transaction within the past 12 months then that account is considered inactive. A $5 inactivity fee will be charged each month the account remains inactive. This fee will continue to be charged until you make a minimum $1 transaction to your account, until your balance is $0 or for five years, whichever comes first. After five years of inactivity, the account is considered dormant and abandoned property by the state of South Carolina. Carolina Trust is required to turn any abandoned account over to the State. Carolina Trust's Inactivity Account Policy applies to all youth and adult accounts, excluding IRAs. You can prevent an inactive status by making at least one deposit, withdrawal or transfer to your account(s) within a 12-month period.
The US Government requires all financial institutions to enforce Federal Regulation D, which limits the number of transactions that can be made from a depository account during a calendar month. A depository account is defined as a savings-only or money market* account. Members may not make more than six (6) transfers or withdrawals from a depository account during a month by the following means:
Online banking
ACH
ATM transaction at merchant
Telephone transfer (either by E-Z Teller Audio Response or through a Member Service Representative)
Automatic overdraft protection transfer from your savings or a joint account
Carolina Trust is federally required to refuse any transfer or withdrawal from a depository account that exceeds the Fed Reg D limitations. If you should exceed the monthly limitations on your savings or money market account, any transfer or withdrawal attempted from your depository account will be refused, the transaction will be returned for Non Sufficient Funds (NSF), and an NSF fee will be charged to your account.
There is no limit to the number of withdrawals you may make from a depository account at a Carolina Trust branch or ATM location**. To avoid exceeding the "Reg D" limitations, monitor your account with the Regulation D Transaction eAlert, or utilize automatic draft (ACH) to have payments deducted from your checking account instead of your savings account. Also, consider setting up direct deposits to your checking as opposed to savings. Then you can transfer money from your checking to your savings without counting against your Reg D transactions.