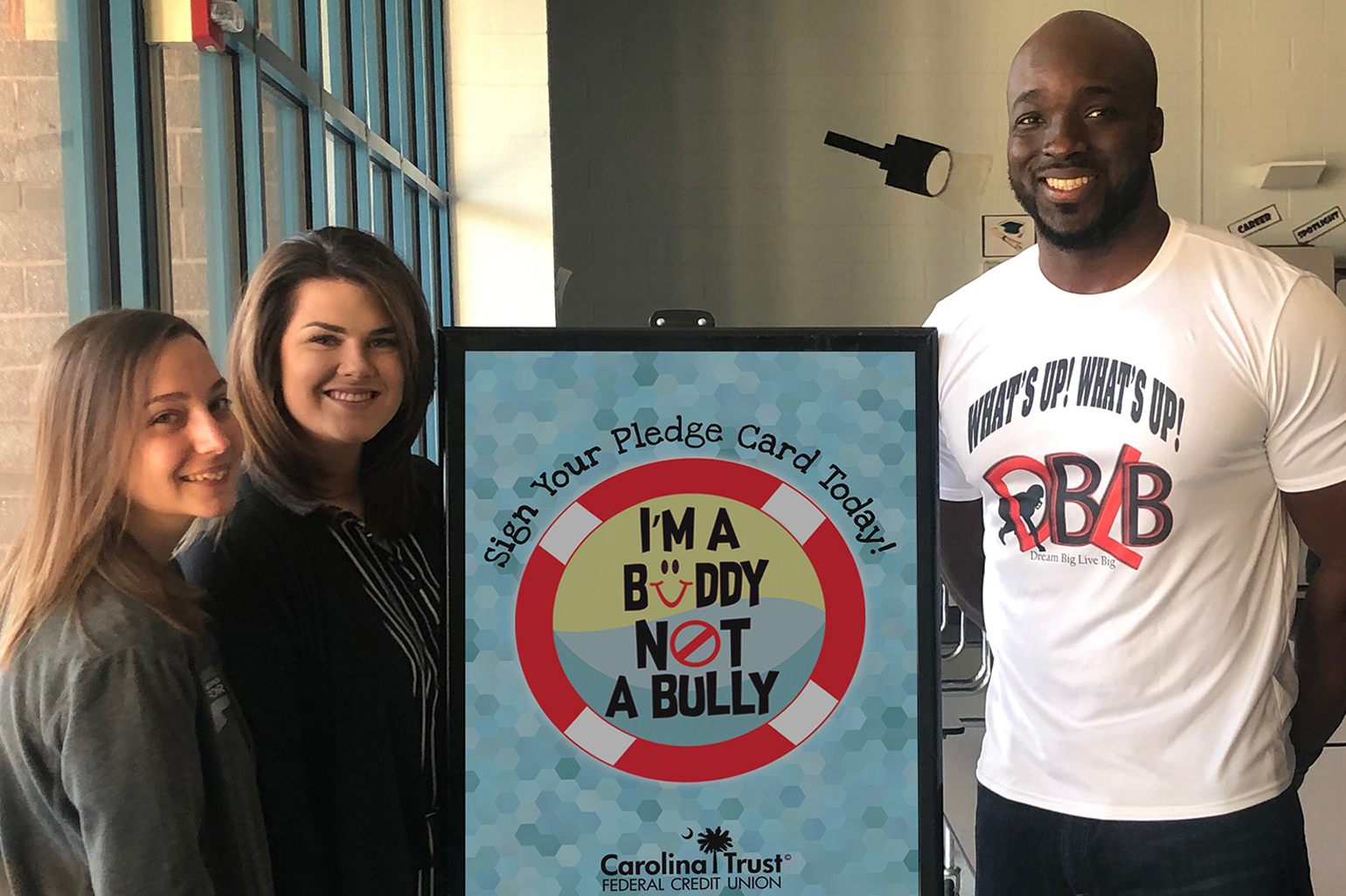 Carolina Trust Federal Credit Union Receives Diamond Award for Outstanding Marketing, Business Development Achievements
Carolina Trust Federal Credit Union was recently honored with an Ongoing Events Diamond Award, which recognizes outstanding marketing and business development achievements in the credit union industry.
The award was presented by the CUNA Marketing & Business Development Council, a national network comprised of over 1,200 credit union marketing and business development professionals. Awards are given in each of 35 categories ranging from advertising to community events and beyond.
Carolina Trust won the Ongoing Events Diamond Award for its entry, entitled I'm A Buddy, Not A Bully. The program originated in 2017 and has grown to include 31 participating schools from Horry County and Southern Florence County, South Carolina. Carolina Trust partnered with former NFL player, Ricky Sapp and his foundation, on public service announcements and school visits. During the school visits, Carolina Trust provided fifth-grade students with resources on the effects of bullying, and how to prevent and report it.
"Carolina Trust started the I'm A Buddy, Not A Bully campaign to teach students how to respond and help prevent bullying, showing them that change can happen one child at a time," said August Mize, Carolina Trust Digital Marketing Specialist. "We are so honored to be awarded such a prestigious award, that bring awareness to bullying prevention."
Ricky Sapp, former NFL Player and founder of The Ricky Sapp Foundation, said he loves sharing his experience with being bullied when he was a young child.  "So many of them are going through some tough times, so it's a blessing to be able to encourage them. Strong people stand up for themselves, but stronger people stand up for others," said Sapp.
"It's an honor to bring recognition to some of the best-of-the-best in credit union marketing and business development," said Amy McGraw, diamond awards chair and VP marketing/chief experience officer at Tropical Financial CU. "Thank you for joining us to celebrate the remarkable achievements of your peers and gather ideas to elevate our profession."
CUNA Marketing & Business Development Council celebrated Diamond Awards Week by announcing winners in 35 categories through a series of daily virtual awards ceremonies. Turnout was outstanding for this year's award competition with 1,295 entries submitted. Six credit unions won Best of Show Awards, 93 won Category's Best Awards and 255 won Diamond Awards. For more information on the Diamond Awards or to view the entire list of winners, visit.