Carolina Trust Federal Credit Union
Annual Membership Meeting
July 23, 2020 Annual Meeting Minutes:
The 61st Annual Meeting of Carolina Trust Federal Credit Union was held on this date at the Horry/Georgetown Technical College Auditorium, Conway, South Carolina. Chairman Marlowe called the meeting to order at 3:05 pm after ascertaining a quorum. He mentioned that this is his first Annual Meeting as Board Chairman since replacing previous Chairman Charles Thrash who retired at the end of September 2019.  Chairman Marlowe commented it is nice to see some new faces as well as some old faces. He thanked long-time member, Howard Jones, for making the trip from Aiken, SC to Myrtle Beach for the meeting.
Chairman Marlowe referred to three main objectives of the Annual Meeting:
To provide members with past and future plans of Carolina Trust
To provide a public forum for member questions and
To elect Board of
Angelia Johnson gave the invocation. Chairman Marlowe led the Pledge of Allegiance to the Flag.
Chairman Marlowe stated we will follow the agenda printed in the Annual Report which was provided to members upon entry to the meeting room.
Chairman Marlowe introduced Board Members J. Dalvin Avant, Jr., D. Carlton Lewis, and Alan C. Rosensteel. He reported Lynne B. Boykin, Dr. Robert B. Burney, and David F. Honeycutt were unable to attend today. He also introduced Senior Staff Members President/CEO B. Timothy Carlisle, SVP/CFO Timothy S. Vogel, SVP/COO Christina H. Naylor, SVP/CDO Jessica Wilson, VP Lending Bobby Doty, VP Strategic Initiatives Angelia Johnson, VP Compliance/Risk Management Melinda Drake-Pearce, VP IT Brian Griffith, and Executive Assistant Selma Reburn.
The Board Chairman and President's Report, Financials Statement of Condition and Statement of Income are included in the Annual Report handed out upon entry to the meeting.
SUPERVISORY COMMITTEE REPORT: Supervisory Committee Chairman, James Risser, introduced  the  attending  Supervisory  Committee Members  Karen  Minogue,  Richard  Patelunas,  and  Alan  C.  Rosensteel.  David  Gilbert  was  unable  to attend.  Committee  Chairman  Risser  reported  the  Supervisory  Committee  is  governed  by  the  Credit Union's By-laws and gave a summary of the Committee's responsibilities as outlined in the Supervisory Committee  Charter.  The  Supervisory  Committee  Report  is  included  in  the  Annual  Report  provided  to each member attending the meeting.
CHAIRMAN'S REPORT:
Chairman Marlowe conveyed that Tim Carlisle, President/CEO, has assembled an outstanding team. Due to Mr. Carlisle's leadership, business loans have increased significantly as well as mortgage loans. David Welborn, Business Services Manager and Connie Thompson, AVP Mortgage Services, have done an exemplary job in the growth of these departments.
In August 2020, we established the Carolina Trust FCU Annual Veterans Scholarship in honor of Board Member Emeritus Retired Lt. Col. James B. Kendrick, who turned 100 years old in May 2019. The scholarship  will  support  military  veterans  and  participants  in  the  ROTC  program  at  Coastal  Carolina University.
Chairman Marlowe reported Carolina Trust has been recognized locally and nationally and commended Amanda Marker, AVP Marketing, for her efforts in attaining this recognition.
He referred to the challenges of COVID-19 and said how appreciative he and the Board are of how the staff has handled the pandemic circumstances.
PRESIDENT'S REPORT: Mr. Carlisle thanked Chairman Marlowe for the kind words. He reported that Carolina Trust is in a strong financial condition. He attributes our success to our focus on people and not profits.
In 2019 we wanted to complete a number of large projects. Our Surfside Beach branch was a planned renovation and members and staff have been pleased with the outcome. The Conway branch renovation was unexpected due to water problems which caused a prolonged closure of the branch. Members were served in a temporary branch which was opened in February 2019, and we took advantage of this time to remodel the Conway branch.
We updated our mobile banking app to offer fingerprint and Face ID authentication. We launched a new and improved website and credit card program. Our new mobile-friendly website offers helpful tools to enhance our members' access to the many available resources. In December, we introduced three new VISA cards with no annual fees, real-time credit activity updates, automated fraud alerts, and more robust reward and benefit options.
As Chairman Marlowe mentioned, we have a strong mortgage and business loan department. In 2019, we closed $30 million in mortgage loans and $1.4 million in our First-Time Homeowners Program and another $1.4 million this year. We closed $4 million in business loans in 2019 and up to $2 – $3 million already this year.
In 2019, we received numerous awards: Marketing Association of Credit Unions (MAC) Award for our Annual Report, MAC Award Silver for Social Media, MAC Award Gold for Trustworthy Faces Brand Video, Credit Union National Association Diamond Award for Brand Awareness, WMBF News "Best of the Grand Strand" in Banking, SC Best Places to Work, Best Credit Unions to Work For in the Nation, and an American Business Award Bronze Stevie®  for our Trustworthy Faces Brand Video. In January 2020, we received two awards from the Carolinas Credit Union Foundation. The I'm A Buddy, Not A Bully campaign won Second Place in the state-level Dora Maxwell Social Responsibility Community Service category and our Member Disaster Relief Loan placed First in the state-level Louise Herring Philosophy in Action Service category and Second in the nationwide competition.
Mr. Carlisle addressed the COVID-19 pandemic. Our primary concern is to take care of our members by limiting virus exposure. Our drive-thru and appointment booking are available. Staff has been trained for making services available while protecting members and themselves. We installed shields at service areas, require masks upon entry to the Credit Union, an ion air system to help purify the air in our buildings. We are ensuring that our members needs are being met. We will take what we have learned and turn it into positive change.
While   positioning   the   Credit   Union   for   continued growth, we must embrace new challenges and emerging opportunities to remain a lower-cost banking alternative within the Carolina counties we serve. We will continue to focus on building your trust. Thank you for choosing to do business with your Credit Union.
OLD BUSINESS: There was no old business.
NEW BUSINESS: There was no new business.
ELECTIONS: Alan  Rosensteel,  Nominating  Committee Chairman, explained the election process. The Nominating   Committee   presented   candidates   for four seats to be filled: B. Michael Marlowe, David F. Honeycutt, J. Dalvin Avant, Jr., D. Carlton Lewis. No nominations by petition were received. The nominations were closed. A motion was made to approve the nominations by acclamation. The motion was seconded and carried.
Chairman Marlowe thanked all who attended.
A motion was made by Howard Jones to adjourn at 3:38 pm. The motion was seconded and carried.
Beyond The Pandemic, 2020 Annual Report
Our Mission
Preserving Our Past, Improving Our Present, Building Our Future: Owners Serving Owners
Our Vision
Continue to improve upon our service quality and expand our market share by aggressively nurturing existing member relationships while pursuing new members.
Our Values
Integrity
Conduct business according to the highest ethical standards
Member Focus
Active listening, follow-up, and relationship building
Innovation
Foster a culture of innovation and encourage creativity
Operational Excellence
Maintain an environment that focuses on continuous improvement
Leadership
Inspire and empower one another to achieve our vision
Dynamic Environment
Cultivate an energizing environment that instills a sense of pride and winning spirit
Community Impact
Share our success by supporting charitable causes and employee volunteer activities
Agenda
Ascertainment of a Quorum
Approval of Minutes from Last Meeting
Report of the Supervisory Committee
Board Chairman and President's Report
Old Business
New Business Other Than Elections
Elections
Announcements
Questions
Adjournment
Board Chairman and President's Report
Carolina Trust Federal Credit Union is proud to end an unprecedented and tumultuous year on solid financial footing. We reached a major milestone when Assets grew to over $305 million in December 2020 from over $247 million in December 2019.
This indicates a rate of growth of over 23% whereas last year's national average asset growth rate for credit unions was 16%. Net Worth at the end of 2020 decreased to 9.09% from 10.65% in December 2019 largely due to asset growth fueled by deposit growth of 25%. Loans grew approximately $31.5 million compared to year end 2019. This increase of over 17.5% outpaced the industry average of 6% and was largely due to the 63% growth in mortgage loans and 36% growth in member business loans. Our loan to share ratio in December 2020 was 78.28% compared to 83.54% in December 2019 due to increasing deposits. Return on Assets declined approximately 45 basis points from 0.91% to 0.45% due to decreased Non-Interest Income, such as general fee income, and increased Non-Interest Expenses, such as general operating expenses. Although the pandemic wreaked havoc on families and businesses across the nation, Carolina Trust is happy to report your Credit Union remains in a strong financial position, and we spent much of 2020 identifying ways to help our members, employees and communities navigate beyond the pandemic.
Throughout 2020, Carolina Trust remained committed to the community and helping struggling members survive the pandemic following job furloughs and layoffs. During the prolonged shutdown, we offered members special assistance such as fee waivers for foreign ATM and check-by-phone transactions as well as loan payment deferrals up to 3 months for auto, personal and home loans. Additionally, we offered an emergency pandemic assistance loan to help people get back on their feet. And Carolina Trust's determination to live out our philosophy of "People Helping People" did not stop there. We made donations to 53 community organizations totaling over $34,000 to help the area's hurting, homeless and hungry. These funds also went to foster higher education efforts, raise community awareness, and promote personal well-being initiatives alongside organizations like our local chapters of the American Cancer Society and American Red Cross. You can read more about your Credit Union's community endeavors in the "People Helping People" section of this Annual Report. Plus, we encourage you to review the "2020 Awards and Recognition" section that highlights the local, national and even international accolades your Credit Union received for last year's extraordinary efforts.
When public exposure was limited due to COVID-19, Carolina Trust continued to offer robust digital banking solutions and deposit capable ATMs to help keep members in charge of their finances without disruption. Members who had never made a mobile check deposit via our mobile banking app or deposited a check at our ATMs were embracing these self-service technologies. During 2020, we quickly implemented work-from-home capabilities for many staff positions to help minimize member service disruptions when branches were required to close for COVID-19 related  concerns.    Not  one  Carolina  Trust  employee missed a full paycheck during times of shutdown or quarantining as required by local officials. And, as soon as it was considered safe and feasible to do so, we re- opened drive-thru and in-branch services in accordance with state and national health and safety guidelines. Carolina Trust implemented many recommended safety precautions to help employees and members feel more at ease when conducting in-person banking transactions.
Last year, Carolina Trust introduced Live Person Chat during business hours and auto chat for afterhours. Members like having the personal, real-time interaction of chatting with a Member Service Representative as well as receiving a quick response to routine questions from our automated chatbot. Additionally, Carolina Trust began reserving member service appointments via our website scheduler. At first, it was a great way to organize branch traffic limitations when COVID-19 cases were on the rise and extra precautions were in place. Now, members report enjoying the convenience of making an appointment with a representative to discuss a mortgage loan or open an IRA during a time that works best for them. Our goal is to provide the personal interaction you desire in a timely manner that still leaves room for lunch during your lunch hour.
Carolina Trust looks beyond the pandemic with hope and determination to get some postponed projects back on track as we tackle emerging opportunities. By May 2021, we will have migrated our core system from in-house servers to offsite hosting via a service bureau solution.   Management determined this was a better alternative to transitioning our servers to an offsite location. Bottom line: we will be better prepared for business continuity in the event a natural disaster threatens our area. During the Third Quarter of 2021, members will notice an updated digital banking solution. We look forward to offering online and mobile banking users expanded service features such as transfers to and from other financial institutions and enhanced credit card options like real-time payments. We are excited to work with a new digital banking service provider who is keeping pace with emerging technologies to offer greater remote banking convenience at your fingertips. So, whether you're working from home, working on a tan or working out, you can access your Credit Union accounts and manage your finances when it works for you.
Other   delayed   projects   we're   looking   forward   to completing in 2021 include digital member account opening from start to finish, contactless debit cards followed by credit cards later in the year, and digital wallet payment options through Apple, Google and Samsung. The uncertainty of 2020 and the post pandemic economic outlook for 2021 have resulted in Carolina Trust shifting some priorities. We had hoped to begin planning the construction of a new branch facility, but with repercussions still taking shape, we have decided to postpone that initiative. While delinquencies and loan charge offs remained manageable during 2020, we expect both may increase during 2021. And although we anticipate consumer behaviors returning to some degree of pre-pandemic normalcy, we're not sure how quickly people will return to malls, entertainment venues, travel, and restaurants in full force. Therefore, your Credit Union will continue to adapt our resources and develop an agile workforce to meet evolving consumer expectations while addressing economic challenges.
Carolina Trust understands that threats always loom and unfortunately, some develop into economic downturns or natural disasters, but preparedness and strategy remain within our ability to influence. Your Credit Union recognizes we must prepare our organization to weather unplanned events by continuing to: practice fiscal responsibility and shore up resources, maintain our commitment to put people ahead of profits, deploy services and technologies that engage members in financial education and money management, and create operational efficiencies to remove service barriers. If we follow these practices during both good and challenging times, we believe we will remain a viable and sustainable financial resource for our current member-owners and the individuals and businesses we look forward to serving in the future.
Thank you for choosing to do business with your locally owned Credit Union. We value our member-owners, dedicated staff and volunteer Board of Directors and Supervisory  Committee  members.    We  recognize  that each relationship plays a crucial role in the continued success of this unique, not-for-profit financial cooperative. Together, we've overcome hurricanes, flooding, economic recessions and periods of uncertainty . . . and together, we will move beyond the pandemic.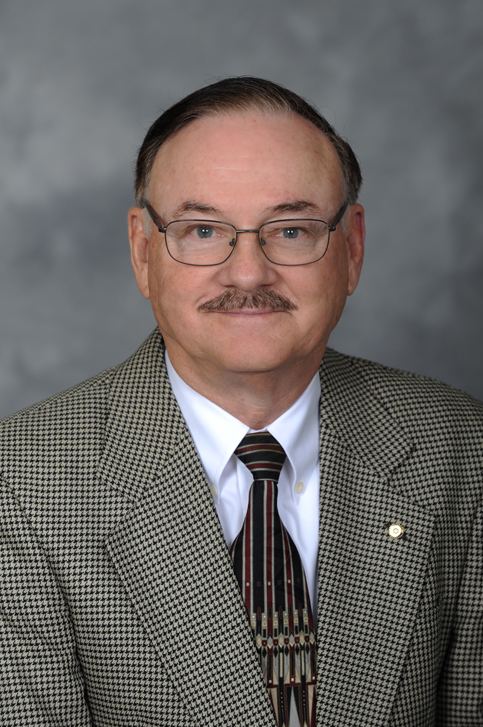 B. Michael Marlowe
Board Chairman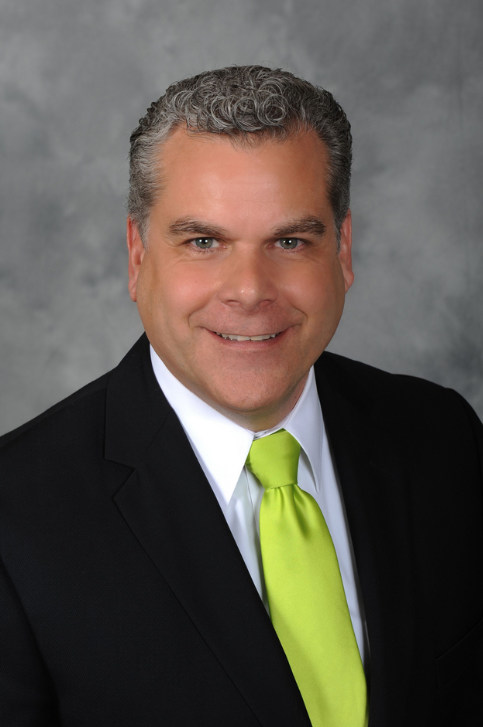 B. Timothy Carlisle
President/CEO
Supervisory Committee Report
The Supervisory Committee is a volunteer committee responsible for reviewing the financial operations of the credit union in accordance with the regulatory procedures established by NCUA and the Credit Union's policies in order to safeguard members' assets and assure you are provided the quality service you deserve.
The Supervisory Committee includes the following volunteers: Chairman James  Risser,  Alan  Rosensteel,  David  Gilbert,  Jr.,  Karen  Minogue,  and Richard Patelunas.
Our annual audit was conducted by the CPA auditing firm, Doeren Mayhew, CPAs. The annual audit, which includes financials, covers a review of internal controls and audit evidence, financial accounting support, issues audit opinion and audited financial statements, and submits the report to the Supervisory Committee.  Once a year, Netbank performs an IT audit for network and cybersecurity. Our Carolinas Credit Union League performs cash counts, teller procedures, and security checks at each branch. Our federal regulator, the National Credit Union Administration (NCUA), performs periodic safety and soundness exams. Carolina Trust's Compliance and Risk Management team also performs internal audits on a monthly basis.   The Supervisory Committee reviews all audits and exams conducted throughout the year to make sure the Board of Directors and Management respond to any recommendations made by the auditing firms.
The   Supervisory   Committee   is   committed   to   ensuring   the   line   of communication remains open to our member/owners, so you continue to receive the highest quality service. If any member has any concerns or issues, a letter should be sent to the following address: PO  Box  8941,  Myrtle  Beach,  SC  29578-8941.  The  Committee  will review and respond.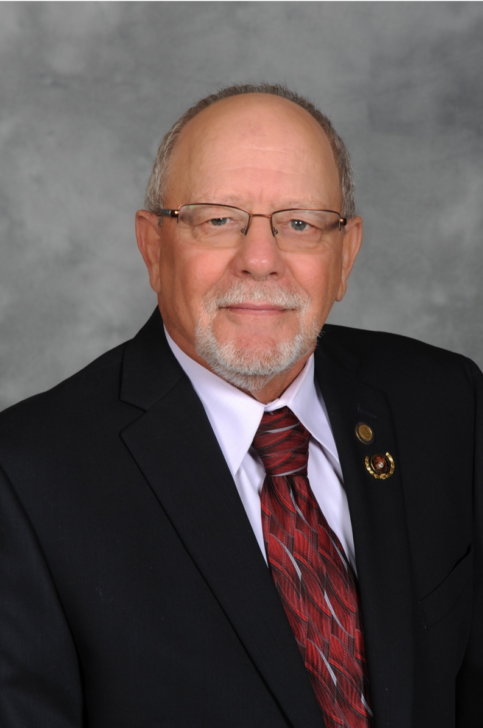 James Risser
Chairman, Supervisory Committee
Board of Directors
CHAIRMAN
B. MICHAEL MARLOWE
VICE CHAIRMAN
DAVID F. HONEYCUTT
SECRETARY/TREASURER
DR. ROBERT B. BURNEY
DIRECTORS
J. DALVIN AVANT, JR.
LYNNE B. BOYKIN
ALAN C. ROSENSTEEL
Board Member Emeritus
JAMES B. KENDRICK
Supervisory Committee:
CHAIRMAN
JAMES RISSER
MEMBERS:
DAVID GILBERT, JR.
KAREN MINOGUE
RICHARD PATELUNAS
Financials: Statement of Condition
| | December 31 | |
| --- | --- | --- |
| | 2020 | 2019 |
| ASSETS | | |
| Cash and Cash Equivalents | $14,860,755 | $11,083,135 |
| Investments | | |
| Interest bearing deposits | 55,071,332 | 31,525,057 |
| available for sale investments | 10,807,011 | 17,435,604 |
| Federal Home Loan Bank (FHLB) Stock | 223,200 | 216,000 |
| Total Investments | 66,101,543 | 45,502,438 |
| Loans receivable | 213,654,021 | 181,726,241 |
| Less allowance for loan losses | 2,473,815 | 2,093,147 |
| Loans, net | 211,180,206 | 179,633,094 |
| Accrued interest receivable | 645,208 | 609,320 |
| Premises and equipment, net | 8,506,818 | 7,365,607 |
| NCUSIF Deposit | 2,473,679 | 2,137,841 |
| Other Assets | 1,568,142 | 1,494,826 |
| TOTAL ASSETS | $305,336,351 | $247,826,261 |
| LIABILITIES: | | |
| Members' Share and Savings Accounts | $272,949,781 | $212,810,953 |
| Accounts Payable and Other Liabilities | 4,364,143 | 3,940,242 |
| Total liabilities | 227,313,924 | 221,461,891 |
| MEMBERS' EQUITY: | | |
| Regular Reserve | 1,503,609 | 1,503,609 |
| Undivided Earnings | 25,383,749 | 24,011,241 |
| Merged Equity | 874,187 | 874,187 |
| Accumulated other comprehensive income | (260,882) | (24,667) |
| Total members' equity | 28,022,427 | 26,364,370 |
| TOTAL LIABILITIES & MEMBERS' EQUITY | $305,336,351 | $247,826,261 |
Financials: Statement of Income
| | For the Years Ended December 31, | |
| --- | --- | --- |
| | 2020 | 2019 |
| INTEREST INCOME: | | |
| Loans receivable | $9,458,479 | $8,090,560 |
| Investments | 593,410 | 1,129,422 |
| Total interest income | 10,051,889 | 9,219,982 |
| INTEREST EXPENSE: | | |
| Members' share and savings accounts | 324,194 | 390,347 |
| Other | - | - |
| Total interest expense | 324,194 | 390,347 |
| Net interest income | 9,727,695 | 8,829,635 |
| Provision for Loan Losses | 1,217,000 | 890,000 |
| Net interest income after provision for loan losses | 8,510,695 | 7,939,635 |
| NON-INTEREST INCOME: | | |
| Courtesy pay fees | 1,309,713 | 1,656,749 |
| Interchange income | 1,615,106 | 1,534,122 |
| Other fee income | 524,070 | 543,188 |
| Non-sufficient funds fees | 324,669 | 327,018 |
| ATM transaction income | 501,194 | 567,309 |
| Real estate loan origination fees | 482,788 | 288,898 |
| Insurance commission income | 232,901 | 266,807 |
| Non-sufficient funds fees | 227,259 | 324,669 |
| Share branching income | 127,124 | 168,303 |
| Loan late fees | 112,152 | 119,995 |
| Total non-interest income | 5,132,307 | 5,470,040 |
| NON-INTEREST EXPENSE: | | |
| Compensation and employee benefits | 6,067,075 | 5,376,147 |
| Other operating expenses | 2,005,020 | 1,792,383 |
| VISA debit & credit card expense | 1,272,830 | 1,084,929 |
| Advertising and promotional | 469,418 | 391,680 |
| Depreciation and amortization | 597,463 | 699,571 |
| Loan servicing expense | 505,599 | 418,692 |
| Occupancy expense | 479,884 | 499,990 |
| Professional and outside services | 357,462 | 346,049 |
| Phone expense | 175,613 | 172,060 |
| ATM operating expense | 108,683 | 156,574 |
| Total non-interest expenses | 12,270,489 | 11,152,773 |
| Net Income | $1,372,513 | $2,256,902 |
2020 Awards and Recognition
In 2020, we received the following awards and recognition:
2020 International Business Awards®:

Gold Stevie
Company of the Year – Banking – Small

Bronze Stevie
Most Exemplary Employer – COVID-19 Response Global
American Business Awards® COVID-19 Response Category:

Gold Stevie
Most Valuable Employer

Silver Stevie
Most Valuable HR Team
Credit Union Journal
Best Credit Unions to Work For, 2nd Year in a Row

SC Biz News in partnership with the South Carolina
Chamber of Commerce & Best Companies Group
Best Places to Work, 3rd Year in a Row
WMBF News Best of the Grand Strand
Best in Banking, 2nd Year in a Row

Credit Union National Association (CUNA) Diamond Award
Ongoing Events
I'm A Buddy, Not A Bully
Carolinas Credit Union Foundation:

Dora Maxwell Social Responsibility Community Service
2nd Place State Level
I'm A Buddy, Not A Bully

Louise Herring Philosophy in Action Member Service
1st Place State Level; 2nd Place Nationwide
Member Disaster Relief Loan
Marketing Association of Credit Unions: (MAC) Award

Gold
Business Lending Commercial
Coastal Carolina University Partnership

Silver
Billboard Marketing
Newsletter Local Highlight

Bronze
For efforts opening a temporary branch location within five weeks of the unplanned closure of our Conway Branch.
Carolina Trust Pandemic Protocols
Creating a safe environment for employees and members who walk through our doors is a priority, so we implemented and continue to observe the following:
Limited in-branch capacity so social distancing can be maintained
Social Distancing signage to ensure no one feels crowded if waiting
Protective masks required for staff and in- branch visitors
Plexiglass shields at the Teller Lines and Member Service desks
Lobby hand sanitizing stations
Air purification ionization technology at all branches
Supplying staff and their household members with face masks
Refraining from personal contact, such as handshaking, to comply with CDC guidance
We also try to reinforce to staff and members the importance of staying home if experiencing any COVID-19 related symptoms or a positive COVID test within one's
Carolina Trust Brand Ambassador
Meet August, our Brand Ambassador. She is youthful and has a fresh take on financial tips and tricks. August is your 'personal concierge' to answer questions and connect you to the right people here at the  Credit  Union  when  you  need  more  specific  information  or advice. You can contact her at brandambassador@carolinatrust.org.
Follow August on Instagram @successinthebag or subscribe to her blog at carolinatrust.org/blog for helpful resources such as free budgeting Ebooks and worksheets, tips for improving your credit score, and managing debt.
Additionally, you can catch her on WBTW News 13's Living Local Carolina Financial Friday segments, where she discusses financial education topics, visits with our favorite local businesses in the community and showcases our deep roots within our field of membership.
August is a Virginia native who has grown to feel like a local because of the Grand Strand's hometown feel. She has a Bachelors degree from Coastal Carolina University and has worked for Carolina Trust since 2019.
People Helping People
53 Organizations Supported Through Donations
$34,000 Invested Back Into the Community
$9,000 in Scholarships Awarded

Annual Veterans Scholarship in Honor of Lt/Col. James B. Kendrick, USAF/Retired
Key Scholarship in Partnership with Horry Telephone Cooperative TEAL 1000
Executive Assistant Selma Reburn Retirement
Carolina Trust Federal Credit Union's longest- tenured employee Selma Reburn, retired in December 2020. Reburn joined Carolina Trust in February 1987.
During her time at Carolina Trust, she held several positions: Teller, Member Service Representative, Member Service Representative Supervisor, Membership Development Assistant, Assistant Branch Manager, Administrative Assistant, and most recently, Executive Assistant.
During  Reburn's  33  years  with  the  Credit  Union,  she's  seen  it undergo many changes. When she first began in 1987, Carolina Trust was known as the Myrtle Beach Air Force Base Federal Credit Union. The Credit Union served both military and civilian employees on the base. After the closure of the Myrtle Beach Air  Force  Base,  the  Credit  Union  requested  NCUA's  approval to change its field of membership charter and name to Carolina Trust  Federal  Credit  Union.  Over  time,  Carolina  Trust  expanded from just two branches (Air Force Base and Conway) to the seven branches that are currently operating.
In 1993, Reburn took on her current role as Executive Assistant. As Executive Assistant, Reburn performed a variety of duties, along with supporting the Board of Directors and credit union staff. She served as Executive Assistant under five different Carolina Trust Presidents: William Varn, Malcolm (Ed) Culpepper, Jim McDaniel, Jerry Miller, and Tim Carlisle.
"I sincerely thank Selma for all of her contributions to Carolina Trust during her 33 years of service and all she has done for me during  my  time  as  President/CEO,"  said  Tim  Carlisle,  Carolina Trust   President/CEO.   "We   will   miss   Selma   dearly   but   will remember her many accomplishments with deep appreciation."
Reburn also served under several Board Chairmen, notably Major General Jones E. Bolt, Colonel Charles M. Thrash, and presently Lieutenant Colonel B. Michael Marlowe, Carolina Trust Board Chairman and FAA Pilot Examiner.
"Selma Reburn is the most loyal, dedicated, and versatile employee  that's  ever  worked  for  Carolina  Trust  Federal  Credit Union. Her unwavering loyalty, smile, and helpful hand will be sorely missed, but not forgotten," said Chairman Marlowe.
Executive Management Team
PRESIDENT/CEO
B. TIMOTHY CARLISLE
CHIEF OPERATIONS OFFICER
CHRISTINA NAYLOR
CHIEF FINANCIAL OFFICER
TIMOTHY S. VOGEL, CPA
CHIEF DEVELOPMENT OFFICER
JESSICA WILSON
SENIOR VICE PRESIDENT LENDING
BOBBY DOTY
SENIOR VICE PRESIDENT  RISK MANAGEMENT
MELINDA DRAKE-PEARCE
SENIOR VICE PRESIDENT  INFORMATION TECHNOLOGY
BRIAN GRIFFITH
SENIOR VICE PRESIDENT  STRATEGIC INITIATIVES
ANGELIA JOHNSON
Locations
Myrtle Beach
1010 21st Avenue North
4254 Holmestown Road
Surfside Beach
1610-C Highway 17
Business South
Conway
2518 Main Street
Little River
1602 Highway 17
Lake City
219 West Main Street
Johnsonville
422 North Georgetown
Highway
Contact Us
carolinatrust.org
843.448.2133
facebook.com/carolinatrustfcu
instagram.com/carolinatrustfcu
To download the full 2020 Annual Report as a PDF Document Click Here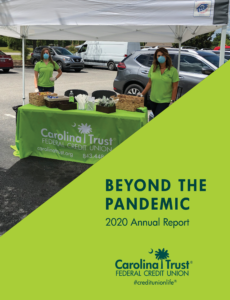 This credit union is federally insured by the National Credit Union Administration.