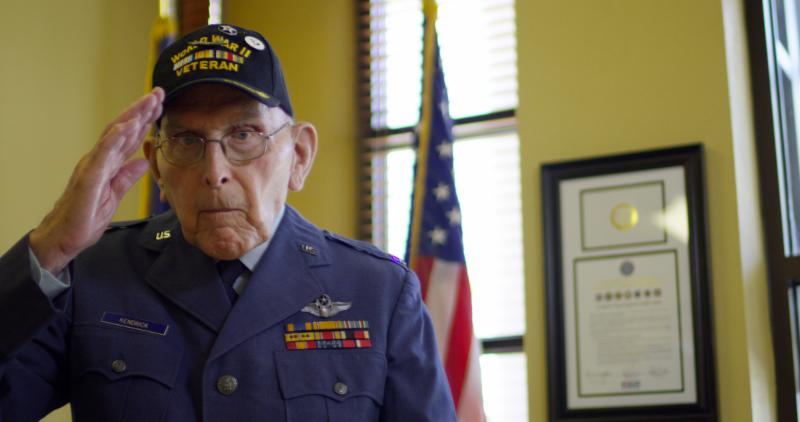 City of Myrtle Beach Honors Lieutenant Colonel James B. Kendrick, USAF/Retired

The City of Myrtle Beach proclaimed the week of May 17 – 23, 2021 as James B. Kendrick week. Lt/Col. Kendrick served on the Board of Directors for Carolina Trust Federal Credit Union from 1985 to 2017, when he was named Board of Director Emeritus. As Carolina Trust Board of Directors Emeritus, he continues to share his life and experiences with all of those who have the honor of being in his presence.
"Col. Kendrick is very well-known in the Myrtle Beach community, thanks to his many civic and business activities. The City Council members all know him, and Council was happy to honor such a fine gentleman in advance of his milestone 102nd birthday. That's an amazing accomplishment for an amazing citizen of Myrtle Beach. His career with the US Air Force also fits into our celebration this month of Myrtle Beach's military heritage," said Mark Kruea, City of Myrtle Beach Public Information Director.
JAMES B. KENDRICK WEEK – MAY 17-23, 2021
WHEREAS, Lieutenant Colonel James B. "Jim" Kendrick, US Air Force, retired, is celebrating a significant milestone – his 102nd birthday – on May 17, 2021; and
WHEREAS, Born in 1919 in Gastonia, NC, Jim Kendrick graduated from The Citadel in 1940 and entered the US Army that year as a Second Lieutenant, after which he completed flight school and served in the Army Air Corps, flying bombers during World War II and later serving in what became the US Air Force; and
WHEREAS, During his years of service as a military pilot, he was awarded the Air Medal, Pacific Campaign Medal and American Campaign Medal, ultimately retiring from the US Air Force in 1968 at the rank of Lieutenant Colonel; and
WHEREAS, Jim Kendrick moved to Myrtle Beach upon retirement and was active locally in business and other endeavors, including the Order of Daedalians and Rotary International; and
WHEREAS, A long-time member of First United Methodist Church, Kendrick is admired by all who know him for his kindness, generosity, faithfulness and intelligence;
NOW, THEREFORE, be it proclaimed that the City of Myrtle Beach hereby designates the week of May 17-23, 2021, as James B. Kendrick Week in honor and recognition of his milestone 102nd birthday on May 17 and the celebrations which will follow, and extends best wishes and birthday greetings to our long-time friend and neighbor on this momentous occasion.