Exciting updates to your Carolina Trust digital banking experience
For desktop users, the new updates include consolidating all widgets and resources to dropdown menus at the top of the page, allowing you to navigate and quickly access banking tools and features easily.
Dashboard
Accounts: Accounts, ClickSwitch, Courtesy Coverage, Check Services, Overdraft Protection, Quick Apply
Transfer & Bill Pay: Transfers, Bill Pay, Deposit Distribution
Credit Cards: Card Management, Pay Card from External Account, Credit Card Dispute, Card Rewards
Statements
Tools: Calculator & Calendar, Financial Wellness, Locations, Message Center
Security: Alerts, Settings

Coming Soon: Mobile app users can expect a new, modern look with simplified navigation. Check out the video below to view the refreshed look.
New Accounts Experience
Enjoy a new, modern look of your accounts that makes navigating through your transaction and account details much easier. Simply swipe the account cards to view quick action buttons that take you to your desired task.
Simplified Navigation
When you login, you'll notice a convenient bottom bar that displays a few quick menu options to help you quickly find what you need. Tap More to see a list of categories in this mobile menu and select one to choose a desired item to access the tools and resources you rely on.
Sleek Mobile Deposit Design
Depositing a check has never been easier. Toggle your view on the redesigned Mobile Deposit screen to Deposit a Check or glance at your Activity.
Overall Improved Look and Feel
Experience an enhanced look and feel, and an easy to follow navigation path that gives you access to key functions throughout the app with just a few taps.
Download the Mobile Banking App
The reimagined app is on its way. If you haven't already, download the Carolina Trust mobile banking app on the Apple App Store or Google Play App Store. Turn on automatic app updates to ensure you have access to the latest features as they're made available!
Please note, whether by automatic download or manual download, you'll need to get our new app. You do not need to re-download the app if you have the automatic app update feature enabled on your device.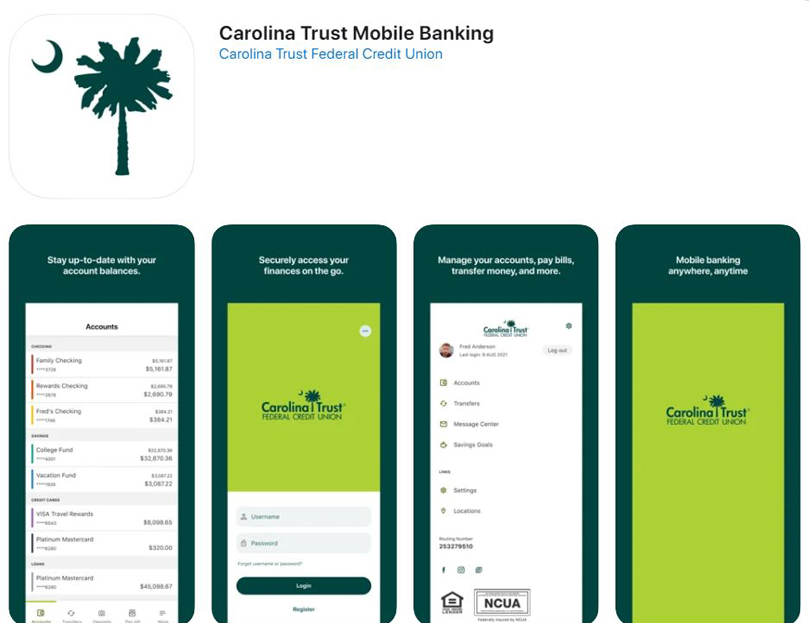 In the Apple App Store, please search Carolina Trust Federal Credit Union to download the current app.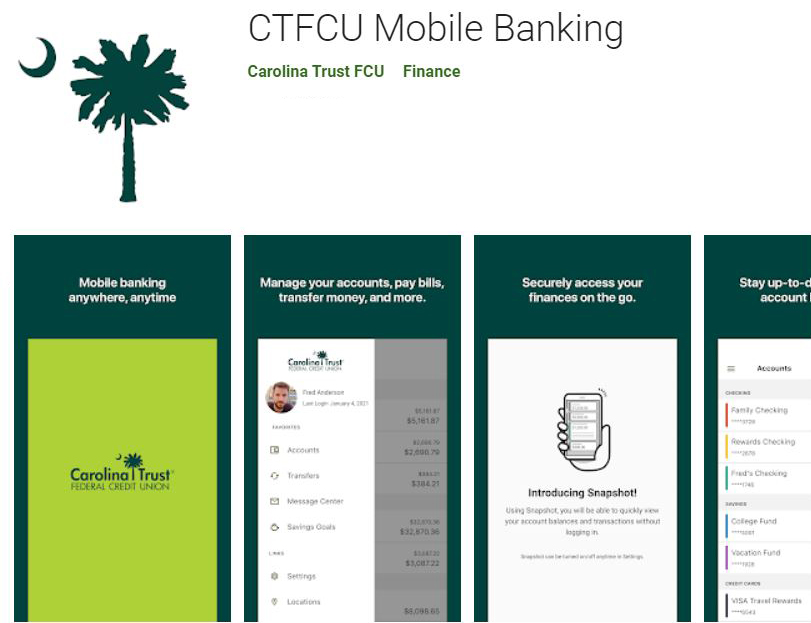 Moving forward with the new mobile app, the following features will no longer be supported:
Android PIN Authentication – Android users who do not have biometric capable devices will use web authentication to log in to the mobile app instead of Android PIN.
Tab Bar Customization in iOS – Apple users will no longer have the option to customize the tab bar.
Widget Tab in Settings – Widget customization under Settings is no longer available.
Snapshot Account Ordering – To simplify the Snapshot functionality, you will no longer need to preselect the accounts you would like to see and will instead be presented with all your accounts and corresponding balances without logging in to the mobile app. You can enable or disable Snapshot through the app settings.
Wearables & Tablets – Wearables (Apple Watch) will not be supported, and the experience will not be optimized for tablets at this time.