Carolina Trust Federal Credit Union and Horry Telephone Cooperative, Inc. (HTC) have partnered to offer two scholarship awards to local graduating high school seniors who wish to continue their education at either Coastal Carolina University (CCU) or Francis Marion University (FMU). Two $5,000 scholarships will be awarded to rising college freshmen seeking a four-year degree from CCU or FMU.
Application packets will be distributed to high school guidance counselors and will include applicant eligibility requirements, an application form, and two letters of reference forms.
Apply online or click here to download the 2024 Key Scholarship application. All materials must be postmarked by March 1, 2024 and should be directed to:
ATTN: Key Scholarship Committee
PO Box 8941
Myrtle Beach, SC 29578
The two scholarship recipients for the 2024-2025 academic year will be announced in May 2024.
2023 - 2024 Key Scholarship Recipients
Click here to read the press release announcing Hope and Savana as our 2023 Key Scholarship recipients.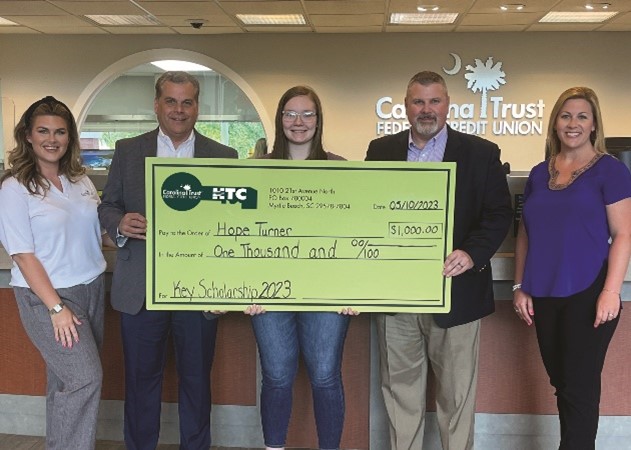 Hope Turner
Francis Marion University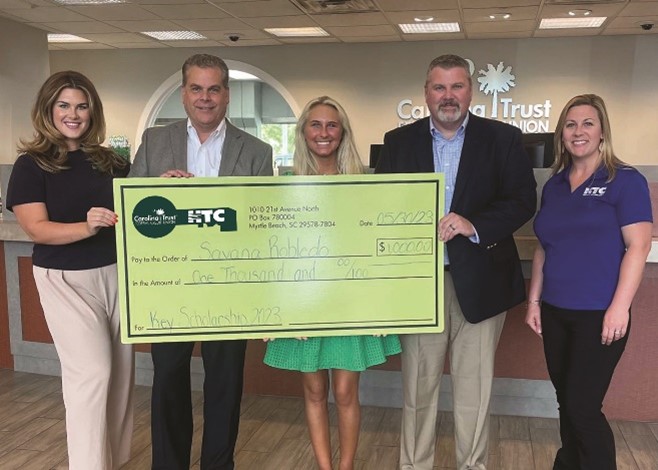 Savana Robledo
Coastal Carolina University
Past Key Scholarship Recipients
| Year Awarded | Recipients | College |
| --- | --- | --- |
| 2022 Press Release | Braydin M. | Coastal Carolina University |
| | Mar'Teona S. | Coastal Carolina University |
| 2021 Press Release | Ariana T. | Coastal Carolina University |
| | Devin M. | Coastal Carolina University |
| 2020 Press Release | Camryn C. | Coastal Carolina University |
| | Destiny P. | Coastal Carolina University |
| 2019 | Katie D. | Coastal Carolina University |
| | Trinity H. | Coastal Carolina University |
| 2018 | Alexis P. | Coastal Carolina University |
| | Chandler . | Coastal Carolina University |
| 2017 | Brittany H. | Coastal Carolina University |
| | Cameron P. | Coastal Carolina University |
| 2016 | Bailee J. | Coastal Carolina University |
| | Jason H. | Coastal Carolina University |
| 2015 | Anna G. W. | Francis Marion University |
| | Carlie T. | Coastal Carolina University |
| 2014 | Abby G. | Francis Marion University |
| | Cailin W. | Francis Marion University |
| 2013 | Devona H. | Coastal Carolina University |
| | Mark H. Jr. | Coastal Carolina University |
| 2012 | Anita S. | Coastal Carolina University |
| | Chante . | Francis Marion University |
| 2011 | Gladys V. | Coastal Carolina University |
| | Rita G. C. | Coastal Carolina University |
| 2010 | Merritt F. | Coastal Carolina University |
| | Skyelar P. | Francis Marion University |
| 2009 | Andrew H. | Coastal Carolina University |
| | Cassandra F. | Francis Marion University |
| 2008 | Jasmine D. | Coastal Carolina University |
| | Jasmine D. | Francis Marion University |
| 2007 | Casey E. | Coastal Carolina University |
| | Christian S. | Francis Marion University |