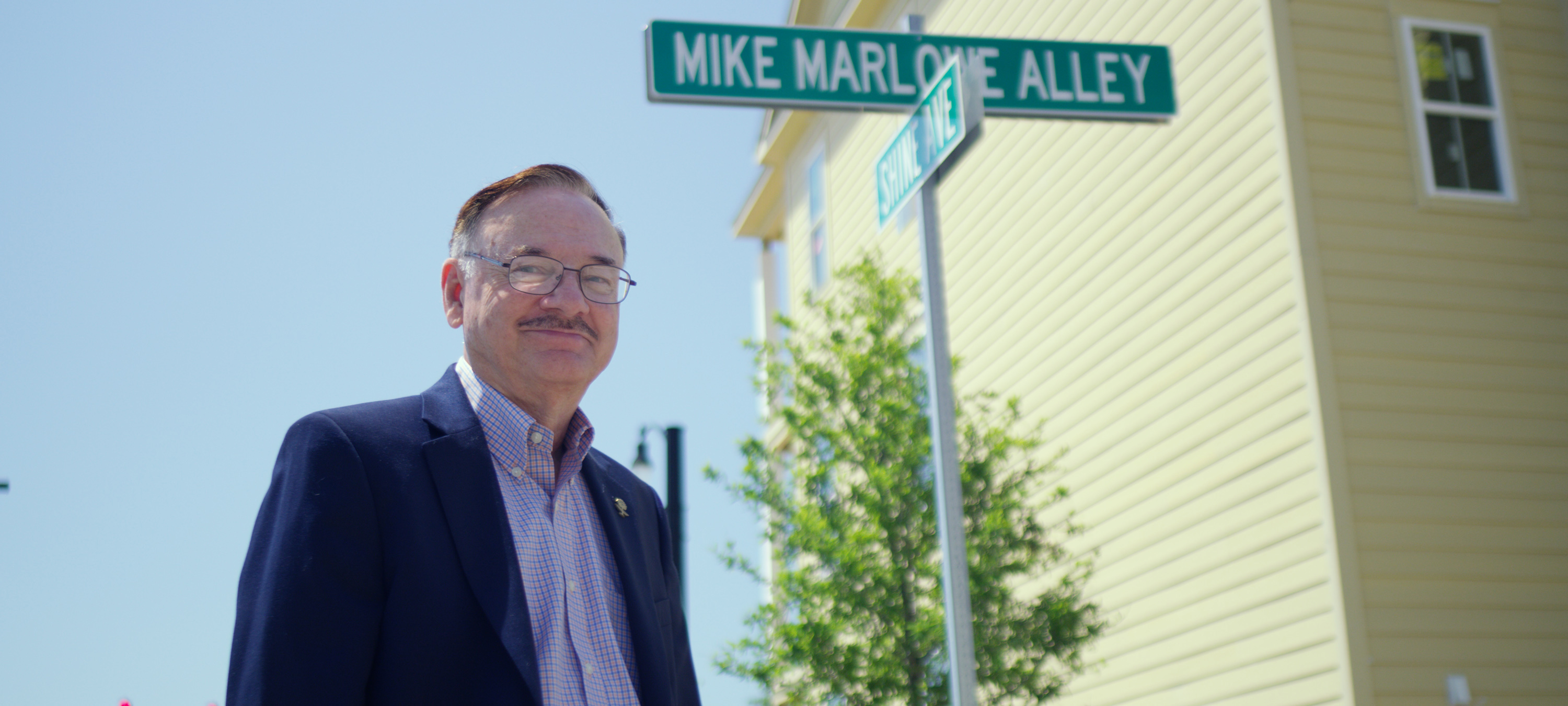 Local Highlight - B. Michael Marlowe, Carolina Trust Board Chairman
After a lifetime of serving his country in the U.S Airforce and reserves, Billy Michael Marlowe "Mike" is continuing to serve others, as the new Carolina Trust Board Chairman. Marlowe was appointed to the Carolina Trust Board of Directors in 1996, and has served as Vice Chairman since 2014.
Marlowe is a native of Horry County, having graduated from Myrtle Beach High School and the University of South Carolina. He holds a Bachelor of Arts degree in History/Political Science and is a graduate of USAF Officers Training School, USAF Pilot Training, Air Command and Staff College, and Air War College.
Serving His Country
During his career in the U.S. Air Force and reserves, Lieutenant Colonel Marlowe held numerous flight and staff positions. He was assigned to the 100th Strategic Reconnaissance Wing during the Vietnam War where he flew CH-3 and CH-53 helicopter reconnaissance missions in support of bombing strikes on Hanoi, North Vietnam. Additionally, he deployed several times to Korea and Germany in support of NATO and Korean military operations.
After Vietnam, Colonel Marlowe was transferred to USAF reserves at Myrtle Beach Air Force Base in the field of Nuclear, Biological, and Chemical warfare and worked as a staff officer for the 354th Group Commander. He continued his service here, during the first Gulf War "Operation Desert Storm" and later relocated to headquarters 9th Air Force Command at Shaw Air Force Base in Sumter, SC.
Colonel Marlowe finished his military career serving with the 437th Military Airlift Wing at Charleston AFB, SC. He retired from the Air Force in May of 1999, with 28 years of distinguished service. Included in his numerous citations and awards are 2 air medals, 2 meritorious service medals, 2 commendation medals, a combat ready medal and a presidential unit citation with valor award.
Civilian Life
In civilian life, Colonel Marlowe has gained over twenty-five years' experience in wholesale and retail sales, marketing, and production. He was the former owner and operator of Marlowe Art Glass Co, where they made beautifully hand-blown glass art. However, he never gave up his love for flying and serving others.
Colonel Marlowe was hired as the General Aviation Manager for Horry County Department of Airports and was selected as the airport manager of the year by the FAA Southern Region Airports Division in 2003. His outstanding leadership and love for flying made him a great civilian instructor. Colonel Marlowe retired from the airport in 2012 but continues to be an active instructor pilot and pilot examiner for the Federal Aviation Administration.
Serving His Community
In addition to his service on the Carolina Trust Board of Directors, he has served as a board member and president of the Broadway Business Association, board member of the Surfside Area Rotary Club, and former state commissioner.
Marlowe and his wife Diane now reside in Myrtle Beach, SC. They have two children and four grandchildren. In his free time, Marlowe enjoys golfing, fishing and serving his community.
Carolina Trust Board Updates
Following the retirement of former Board Chairman Charles M. Thrash, there have been a few updates and position changes to the Carolina Trust Board of Directors.
David F. Honeycutt was recently appointed as Carolina Trust Board of Directors Vice Chairman, after former Vice Chairman B. Michael Marlowe, was appointed as the Carolina Trust Board Chairman.
Honeycutt holds a B.S. Degree in Business Administration/Marketing from the University of North Carolina at Chapel Hill. He served in the United States Air Force for 27 years before retiring as Colonel in 1993.
Col. Honeycutt was then employed for eight years as General Manager of Myrtle Beach Golf Holiday.
Colonel Honeycutt has served as President of the South Carolina Tennis Association; Chair of the State President's Group on the Southern Tennis Association Executive Committee and as a trustee on the Board of the Southern Tennis Patrons Foundation. He is a Past Chairman and currently serves as Secretary of the Board of Trustees of the SC Tennis Patrons Foundation, President of the Grand Strand Tennis League/Foundation, member of the Southern Tennis Association Investment Committee and Chair of the USTA South Carolina Investment Committee. Colonel Honeycutt recently completed his second two-year appointment to the US Tennis Association's National Committee for Tennis Rules and Regulations.
David Honeycutt has served on the Carolina Trust Board of Directors since June 2001.
D. Carlton Lewis, Jr. was appointed to the Carolina Trust Board of Directors in October 2019, to fill the remaining term of the Carolina Trust FCU Board Seat vacated by the retirement of Colonel Charles M. Thrash.
Mr. Lewis is a graduate of Coastal Carolina University with a Bachelor's Degree in Business Administration, and continued his education at Winthrop University, where he earned his MBA. He is also a Certified Financial Manager and Certified Management Accountant.
He has been employed with HTC since 1998 and has held the positions of Comptroller, Manager of Financial Operations, Supervisor of Financial Operations, Financial Analyst, and is currently Chief Financial Officer.
Mr. Lewis is a former board member and treasurer of Aynor Area Athletic Association. He was honored as a Senior Fellow in Class II of the Waccamaw Community Foundation's American Leadership Forum in 2011. He presently serves on the Advisory Board for the Finance Department and the Accounting Department of Coastal Carolina University.
He is a member of Berea Baptist Church and serves as a Sunday School Teacher, Deacon, and as Church Treasurer. He resides in his hometown of Aynor, SC with his wife and two children.
Carolina Trust Federal Credit Union and HTC, Inc. have partnered to offer scholarship awards to two graduating high school seniors within Horry, Georgetown, Marion, Williamsburg, or the southern part of Florence County. Two $1,000 scholarships will be awarded to two rising college freshmen attending either Coastal Carolina University or Francis Marion University for their four-year degree. The scholarships may be renewed for three consecutive years in the amount of $500 per year should the award recipients continue to meet qualifying criteria. The total scholarship amount each student may receive over a four-year period is $2,500. All materials must be postmarked by February 28, 2020.
The two scholarship recipients for the 2020-2021 academic year will be announced in May 2020. Please visit our
website
to download a Key Scholarship Application.
Meals on Wheels Holiday Charity
This holiday season, Carolina Trust is providing ways to help the less fortunate. Our branches will be collecting monetary donations for Meals on Wheels throughout the rest of the year. Stop into any of our branches today to make a donation!
Click Here
for more information about Meals on Wheels.
Surfside Area Rotary Turkey Trot
Carolina Trust was a proud sponsor of the Surfside Area Rotary Turkey Trot. Our staff who participated had a great time at the event.
Coastal Carolina University Alumni Golf Tournament
Carolina Trust was a proud sponsor of the Coastal Carolina University Alumni Homecoming Golf Tournament.
Better Business Bureau of Coastal Carolina Annual Meeting
Carolina Trust was a proud sponsor of the Better Business Bureau of Coastal Carolina's Annual Meeting, where we were able to celebrate the successes of all accredited businesses in attendance and hear about BBB's future plans.
CCU Coin-Toss Kid Winners
Congratulations to all our 2019 CCU Coin-Toss Kid Winners! Each winner received four tickets to a CCU home football game, four Carolina Trust Pavilion passes, one parking pass, and an autographed CCU football.
Important IRA Tax Withholding Information
Payments from your IRA are subject to federal income tax withholding, unless you elect no withholding. You may change your withholding election at any time prior to your receipt of a payment. To change your withholding election, complete the appropriate form provided by your Credit Union. Withholding from IRA payments, when combined with other withholding, may relieve you from payment of estimated income taxes. However, your withholding election does not affect the amount of income tax you pay. You may incur penalties under the estimated tax rules if your withholding and estimated tax payments are insufficient. For more details, contact Carolina Trust at 843.448.2133, ext. 3.
Carolina Trust representatives will be at River Oaks Elementary School on Wednesday, January 8th from 7:00am-7:30am to collect in-school banking deposits from Carolina Trust Goal Club Account Holders.
Consider opening a Carolina Trust Christmas Club account to save for holiday expenses throughout the year while earning a competitive rate on your deposits. Monthly deposits may be made via direct deposit, payroll deduction, or at the Credit Union. Your Christmas Club balance will automatically transfer to your checking or savings account on November 1st.
Whether you're traveling, shopping for gifts, or entertaining, those extra expenses add up quickly. To help provide some holiday relief, you may choose to skip your Carolina Trust loan payment during January 2020 for just $25.00*. Interest will continue to accrue on a skipped loan payment and other restrictions may apply. Contact Carolina Trust for all the details.
*Modified loans, Lines of Credit, Mortgage Loans, Home Equity Loan/LOC, previously modified loan and VISA Credit Card payments are excluded. The loan must not have been delinquent in the past twelve months and must be open for at least 6 months. The $25 fee must be received before payment date will be changed. Other restrictions may apply.